Segment Six:
They finish with a look at the Jamie Jones section. This time they point out that she did get the chance to go to court. True, but after she went through this fight. They again claim the movie is misleading. I guess they missed the statement at the end of the movie that she was going to court.
The judge says she has the day in court when she had the right to go to court. So I guess she should have been happy even if they had ruled against her. This is so ludicrous that it again points out how biased the panel is.
The other professor then says he had one arbitration. OK , so what? None of what they say seems to reflect the reality of arbitration clauses and in their ignorance really add nothing to the discussion.
It ends with a lament by Shwartz about what more the movie could have done. I would guess that makes them feel helpful. The reality is that this is quite insincere and further proof of how much this movie got to the truth.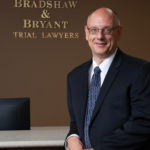 A founding partner with Bradshaw & Bryant, Mike Bryant has always fought to find justice for his clients—knowing that legal troubles, both personal injury and criminal, can be devastating for a family. Voted a Top 40 Personal Injury "Super Lawyer"  multiple years, Mr. Bryant has also been voted one of the Top 100 Minnesota  "Super Lawyers" four times.