There was a lot of talkt yesterday about the end of the world. There seemed to be four groups:
1) Those who seemed to kind of believe it. They figured something would happen and that there would be a group of suicides or maybe even a bomb dropped. It might have even been the second coming as the four horsemen of the apocalypse came riding in.
2) Those who simply didn't want to talk about it. They had theories such as that the calendar was already off from leap year days and there was no way it could be real.
3) The group who made fun of it. They may have been a little into the other two groups, but in the end they used it to scare people and get a laugh.
4) Those who ignored it or didn't accept anything as possible.
I think there were times when I was a little in each group. I did wake up this am thinking :Well looks like we are all clear". But I expected that to be the case and had been buying presents and making plans to go to work later in the week already.
No matter what group you are in , this is really a great opportunity to make a restart. Think about what it would be like if you had been reborn this am and had a chance to let the past go.
In many ways yesterday could have ended the world for almost anything that you are done with in your life. Today could be a brand new day and a brand new start.
It is a socially acceptable chance at a new start .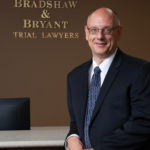 A founding partner with Bradshaw & Bryant, Mike Bryant has always fought to find justice for his clients—knowing that legal troubles, both personal injury and criminal, can be devastating for a family. Voted a Top 40 Personal Injury "Super Lawyer"  multiple years, Mr. Bryant has also been voted one of the Top 100 Minnesota  "Super Lawyers" four times.