This past month, I came across two blogs that have taken a look at the dangers of internet disclosures by clients during litigation. Eric Turkewitz at the New York Personal Injury Blog has What Does A Smile Mean? (Updated), which is a continuation of other times that he has looked at the same issue. This blog is different in that it takes the smiling pictures of victims from the Boston Bombing and points out how these types of pictures have been used by defense attorneys in personal injury trials:
Perhaps future courts will take note of the picture of Bauman, with a smile and a thumb's up, to note that a smile in a snapshot does not magically mean everything is well.

As Bauman makes abundantly clear in this picture, people can smile for a multitude of reasons. It may be because they are happy to be alive. Or because someone said something humorous, even at a funeral. Or simply because of instinct when someone lifts a camera and hollers, "Say cheese!"

Judges and practitioners, please take note.
As we see these types of pictures being used more and more often in personal injury trials, it is this kind of thinking that we will have to make sure the judge understands.
The Philly Law Blog gives us Free Legal Advice of the Day — STOP TALKING ON AVVO. Here we have more direct advice to the client.
Shut up.
Don't post on about your case on the internet. This means Avvo, Facebook, Twitter, MySpace, Instagram, Grindr — WHATEVER.
Call an attorney immediately.
Did I mention SHUT UP?
It seems clear what is being said here. It is so much better to say nothing and not post things that can and will be used against you.
Here are a couple of other times I have written about this topic:
Perez Hilton Points Out How Social Media Can Affect Claims, Mike Bryant | January 24, 2013 9:29 AM
Why Would Anyone Ever Give Up Their Facebook Password?, Mike Bryant | April 13, 2012 9:46 AM
Eliminate Your Facebook Page: Good Legal Advice?,Mike Bryant | November 08, 2011 9:35 AM
The Ethics And Legalities Of Twitter, Mike Bryant | June 23, 2009 2:17 PM
The more technical savvy the defense is getting, the more we will see each and every part of a plaintiff's internet life being used. So keep that in mind when you post.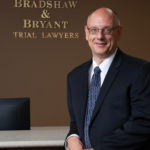 A founding partner with Bradshaw & Bryant, Mike Bryant has always fought to find justice for his clients—knowing that legal troubles, both personal injury and criminal, can be devastating for a family. Voted a Top 40 Personal Injury "Super Lawyer"  multiple years, Mr. Bryant has also been voted one of the Top 100 Minnesota  "Super Lawyers" four times.