Recently, the Minnesota Attorney General brought an action for fraud against the National Arbitration Forum, alleging that the group depicted itself to consumers and the public as independent and neutral, and not affiliated with certain parties. The U S Chamber was quick to attack the claim. Well, the facts seem pretty clear that the group had a cozy little relationship with the credit card companies. What does the NAF do? They settle and they do it almost as fast as the U S Chamber's knee jerk defense.
U.S. Chamber Institute for Legal Reform president Lisa Rickard criticized the action, arguing that the " lawsuit against the NAF would have been enough. But her blatant anti-arbitration political rhetoric in the midst of an otherwise apparently legitimate investigation suggests that her true constituency may not be consumers, but, rather the plaintiffs' trial bar." Well, what happens next? The American Arbitration Association also bails on these types of arbitrations.
That's the two major arbitration groups running away from the business of resolving disputes between customers and their credit-card and cell phone companies. A study by Public Citizen found that credit card companies track arbitrators' rulings and do not enlist the arbitrators who rule against them.
Looks to me like the U S Chamber is again showing their contempt for the the American consumer. Makes you wonder if they even thought about the small businesses that got affected by arbitration clauses. Maybe they saw it as an easy way to attack lawyers again. The facts really don't matter.
March 2010- As the federal court case has gone forward, the defense moved to dismiss. This past week a Federal Judge found:
"Although this Court has been critical of the overuse of civil RICO, according to Plaintiffs' allegations, this case appears to be the rare case for which civil RICO is appropriate,"
Where does the U S Chamber stand now?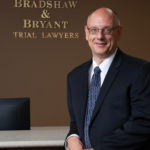 A founding partner with Bradshaw & Bryant, Mike Bryant has always fought to find justice for his clients—knowing that legal troubles, both personal injury and criminal, can be devastating for a family. Voted a Top 40 Personal Injury "Super Lawyer"  multiple years, Mr. Bryant has also been voted one of the Top 100 Minnesota  "Super Lawyers" four times.