This year has been an interesting one. We thank everyone, who took the time to read any of our posts. It was especially gratifying to have so many people weight in with comments. We hope to build off this year and post even more in 2010. Here s a list of our most viewed posts in 2009.
Doctors Will Be Looking At Potential Head Injury With Billy Mays' Death (Updated 07/02/2009). Mike Bryant, June 29, 2009 12:34 AM 11,090 views
Driver Guilty – Drunk Driving a La-Z-Boy?!,Joe Crumley , October 22, 2009 2:37 PM 2,375 views
Airliner Misses Minneapolis – Sleeping, Arguing, Cockpit Sex Orgy?, Joe Crumley , October 23, 2009 12:58 PM 1,554 views
Kinky Sex Gone Horribly Wrong? – What Carradine's death can teach parents, Joe Crumley , June 05, 2009 3:07 PM 1,469 views
Tiger Woods Crashes Car after Rumors of Sexual Affair, Joe Crumley November 27, 2009 3:34 PM 1,307 views
Does my Teenager Need a Booster Seat??, Joe Crumley July 28, 2009 3:03 pm 771 views
F**k You!" – Schwarzenegger Veto Message to Legislator, Joe Crumley October 28, 2009 2:47 PM 732 views
Drunk Driver Charged With Killing Buffalo Teen, Mike Bryant, November 29, 2009 9:17 PM 697 views
Diet Safety: As Recalls Mount, FDA And CDC Says To Just Not Eat Peanut Butter, Mike Bryant, January 18, 2009 1:16 AM 570 views
Foley Minnesota Woman Killed in ATV Tragedy, Joe Crumley, July 05, 2009 9:18 PM
We had our 2,563 pages viewed 78,240 times . It was fun.
Thanks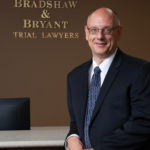 A founding partner with Bradshaw & Bryant, Mike Bryant has always fought to find justice for his clients—knowing that legal troubles, both personal injury and criminal, can be devastating for a family. Voted a Top 40 Personal Injury "Super Lawyer"  multiple years, Mr. Bryant has also been voted one of the Top 100 Minnesota  "Super Lawyers" four times.