This year has been a good one.  I did take a couple of months off from writing,  but am back.  We thank everyone, who took the time to read any of our posts. It was especially gratifying to have so many people weight in with comments. Here s a list of our most viewed posts in 2013.
Glee's Mark Salling Talks Frivolous Lawsuits,Mike Bryant | Feb 17, 2013
Can The New Pope Fix The Sexual Scandals of The Church?,Mike Bryant | Apr 23, 2013
Can you get a ticket for exceeding the speed limit when passing a vehicle on a two lane road?,Nicole Bettendorf | Jul 27, 2009
Pope Call For Commission on Sexual Abuse: Advancement or Another Barrier?, Mike Bryant | Dec 24, 2013
Keep an Eye on Children and XBox Live,Mike Bryant | Dec 24, 2011
Minnesota Child Victims Act Has Eliminated Statute of Limitations on Sexual Abuse Lawsuits for 3 Years, Mike Bryant | Dec 2, 2013
Time For a Safe Sturgis,Mike Bryant | Aug 3, 2012
Car Insurance Pays Lost Wages Even if Disability Insurance Pays!, Joe Crumley | Jan 24, 2011
Hiring a Cut-Throat Lawyer ,Mike Bryant | Jun 11, 2012
Big Trucks Kill! – The Dangers of 18-Wheelers,Joe Crumley | Oct 13, 2009
——————————————————————————
Here is the top ten from our Minneapolis blog.
Here is Brett Emison's list from the Missouri blog.
Here is Rick Shapiro's lists one and two from their Virginia Blog.
We hope to build off this year and post even better in 2014.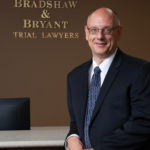 A founding partner with Bradshaw & Bryant, Mike Bryant has always fought to find justice for his clients—knowing that legal troubles, both personal injury and criminal, can be devastating for a family. Voted a Top 40 Personal Injury "Super Lawyer"  multiple years, Mr. Bryant has also been voted one of the Top 100 Minnesota  "Super Lawyers" four times.