So women keep coming out with stories of past harassment by Presidential Candidate Herman Cain. I absolutely believe that he should have a right to defend himself. The thing is that he was the one who chose to jump into the Presidential race. If he was back just doing whatever he does in his job, this really wouldn't be much of a story. As a candidate, they throw the door open to past and present questions.
I've especially watched with interest as he has moves from denials, to explanations, to blame, and finally the public's response.
– The denial was first a combination of "nothing ever happened" and a sort of "who knows it was a long time ago?" But, that got taken away when it was confirmed that there had been past settlements.
– Explanations have been odd combinations of denials and blaming with a mix of total refusal to walk through what really happened. They have touched on the horrors of a tort system that makes abusers liable and "blame the victim" theories.
– The blame has been thrust on liberals and the media, because this shouldn't be a story. The thing is, no matter what happened, the response to the charges is as much a story as the story itself. Does he really look like a guy who is going to handle adversity?
– In the end we will have the public's response. If the claims are true and he did lie about what happened, that should come out. If none of it's true, then it seems that he could have handled this a lot better. But, with a payment and the numbers, it looks like that is unlikely.
Sexual harassment does happen. Hopefully, those who spoke out and protected themselves will empower those who are being threatened now. As a Candidate for President of the United States, Cain could have gone a long way to help even if every former claim was true. But, the delay, deny, defend strategy always looks easy at first.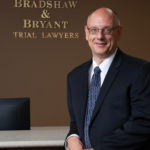 A founding partner with Bradshaw & Bryant, Mike Bryant has always fought to find justice for his clients—knowing that legal troubles, both personal injury and criminal, can be devastating for a family. Voted a Top 40 Personal Injury "Super Lawyer"  multiple years, Mr. Bryant has also been voted one of the Top 100 Minnesota  "Super Lawyers" four times.