We have spoken with a couple of different people who have been put through horrible economic problems after being swindled. Basically, they have been selling something in a want ad or on line. They get contacted by a potential buy, negotiate a price and then get sent a cashier's check. Except the cashier's check is for too much. So what do they do?
The honest seller gets in trouble. They call the buyer back and explain it was too much. They are told to cash the check and wire the difference. They do that, and some days later get the call that the check was fraudulent. But, they sent a good one back.
Is it greedy people? Actually, no they probably would have cashed the first check without sending good money back.
Is this just a small group of people? Actually, no Minnesota has a whole department that deals with it: The Minnesota Fraud Enforcement Partnership 866-347-0911 E-mail: report@mnscams.org of visit their Website: www.mnscams.org.
Is it just happening to dumb people: Actually, it's nice people who are like anyone else and think they got a sale. Now, it may depend a little bit on how you feel about lawyers but I came upon this story in the ABA Journal:
Two law firms in Honolulu were scammed out of $500,000 in an e-mail scheme that's apparently targeting the legal community.

During the past six weeks, six different law firms have been targeted, according to the FBI, which issued a warning today (PDF). Two of the six fell for the scheme and lost a total of $500,000.
This time, it was a person who was hiring them too handle a divorce. The client sent a cashiers check for the retainer. Apparently, the same emails have been making their way around Minnesota.
Don't let it happen to you. It's sad to think that there are probably legitimate transactions that will be affected by the actions of these thieves. But, as with any deal, it's worth taking the time to step back and ask what is going on here?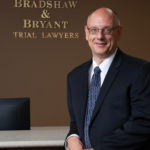 A founding partner with Bradshaw & Bryant, Mike Bryant has always fought to find justice for his clients—knowing that legal troubles, both personal injury and criminal, can be devastating for a family. Voted a Top 40 Personal Injury "Super Lawyer"  multiple years, Mr. Bryant has also been voted one of the Top 100 Minnesota  "Super Lawyers" four times.