Finally, Senator Al Franken's amendment to the 2010 Department of Defense Appropriations Act prohibiting the government from contracting with companies who require their employees to agree to resolve certain claims, such as sexual assault, rape, assault, harassment or discrimination through arbitration is about to become law.
There was all sorts of opposition when it first passed. Remember the group of 30 Republican Senator's that couldn't stop talking about the need to arbitrate these claims?
The Pioneer Press did point out:
Several Republicans opposed the bill. When left-leaning Web sites and TV shows picked up the story, Republicans came off looking like they weren't exactly sympathetic to rape victims. In fact, one sarcastic Web site — totally unconnected to Franken — was started that seemed to particularly irk Republicans. And perhaps you can see why: it was called "RepublicansforRape.org."
There also a time when it looked like a couple of Democrats might be working to strip the amendment out of the defense appropriations bill. As it was thought that Sen. Daniel Inouye, a Democrat from Hawaii and chair of the Senate Committee on Appropriations, may water down or remove the provision, due to pressure from defense-industry lobbyists who fear contractors will be susceptible to lawsuits.
But, now it's passed and on the way to be signed. Just another victory for the Consumer and in a situation that never should have taken this long.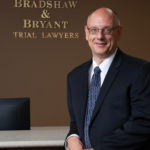 A founding partner with Bradshaw & Bryant, Mike Bryant has always fought to find justice for his clients—knowing that legal troubles, both personal injury and criminal, can be devastating for a family. Voted a Top 40 Personal Injury "Super Lawyer"  multiple years, Mr. Bryant has also been voted one of the Top 100 Minnesota  "Super Lawyers" four times.