The rescue of a farmer from a Lonsdale grain bin reminds us that safety is always important. In the past 7 months there have been at least 3 incidents in Minnesota with farmers getting trapped in grain bins.
Since 2006 there have been 12 deaths in Minnesota as the result of grain bin accidents. According to the National Safety Council, farming is one of the most dangerous occupations in the United States. More than 700 farmers and ranchers die in work-related accidents, and another 120,000 agricultural workers suffer disabling injuries from work-related accidents each year.
The University of Illinois Extension has the following suggestions:
Whenever possible, don't enter a grain bin. If you must enter the bin, as a farm owner/operator you should:

Break up crusted grain from the outside of the bin with a long pole. When using a pole, check to see that it doesn't come into contact with electric lines.

Wear a harness attached to a properly secured rope.

Stay near the outer wall of the bin and keep walking if the grain should start to flow. Get to the bin ladder or safety rope as quickly as possible.

Have another person, preferably two people, outside the bin who can help if you become entrapped. These people should be trained in rescue procedures and should know and follow safety procedures for entering the confined space.

Grain fines and dust may cause difficulty in breathing. Anyone working in a grain bin, especially for the purpose of cleaning the bin, should wear an appropriate dust filter or filter respirator.

Stay out of grain bins, wagons and grain trucks when unloading equipment is running.

If it is necessary to enter the bin, remember to shut off the power to augers and fans. It is a good idea to lock out any unloading equipment before you enter a bin to prevent someone from unintentionally starting the equipment while you are in the bin.

Children should not be allowed to play in or around grain bins, wagons or truck beds.

Where possible, ladders should be installed inside grain bins to for an emergency exit. Ladders are easier to locate inside a dusty bin if there are brightly painted stripes just above or behind the ladder.
According to the Rural Highway Safety Clearinghouse at the University of Minnesota, half of the 42,000 crash-related fatalities in the United States occur on two-lane rural roads. These roads may become even more dangerous as more farm equipment is on the roads. Sure, it can be slow and bothersome for the amount of road the vehicles take up, but the reality is that the farmers are working.
Over time we've represented a number of people who have been in collisions involving farm equipment. Rarely are the effects minimal. 51% of all farm accident deaths involve farm tractors, with rollovers being the most common type of tractor accident. There were 33 farm-related deaths in the Illinois from July 2008 through June 2009. In 2006, two people died and 62 were injured in Minnesota.
The word is that the farmer went back to work the next day which is great news.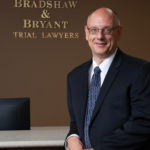 A founding partner with Bradshaw & Bryant, Mike Bryant has always fought to find justice for his clients—knowing that legal troubles, both personal injury and criminal, can be devastating for a family. Voted a Top 40 Personal Injury "Super Lawyer"  multiple years, Mr. Bryant has also been voted one of the Top 100 Minnesota  "Super Lawyers" four times.