I'm sure most Americans who were around can remember many parts of that day. I was on the way back from court and called Joe Crumley, who is now a partner at the firm, to ask if his office was on fire. At that point I was hearing about buildings all over that were on fire and no one had any idea at that point what was going on. I got back to the office and we turned on the TV and watched the rest of the day. It was surreal and made me very fearful for what was going to happen with my two very young sons and their futures.
The next couple of days told the stories of the fireman, police officers, and emergency personnel who gave their lives as they saved people. The pictures showed both the horror of the event and also the hope that we would get through this.
Events were postponed everywhere and over the next couple of weeks there were all sorts of moments of silence and tributes to those who had fallen. The world seemed to come together in condemnation of what had been done.
Safety plans were tested and found to work in many cases. New plans were developed for security and keeping people safe. As a nation we came together and united in a way that I had rarely seen in my lifetime.
Now 10 years later it seems that we are nowhere near as united. We don't really seem that much safer, although there are a lot more people thinking about it. My hope is that the anniversary will rekindle that united spirit. That people will again remember how important it is to work with one another.
I hope that my children never get to experience another event like that day. But, the reality is that we always need to be ready. Here at the Injuryboard , I know that each of us will be looking at ways to make this a safer world.
May the tributes and memorial bring some solace to those who lost loved ones and may it be a reminder of the very best that we can be as a people united.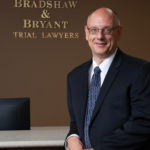 A founding partner with Bradshaw & Bryant, Mike Bryant has always fought to find justice for his clients—knowing that legal troubles, both personal injury and criminal, can be devastating for a family. Voted a Top 40 Personal Injury "Super Lawyer"  multiple years, Mr. Bryant has also been voted one of the Top 100 Minnesota  "Super Lawyers" four times.