With narrow lanes and a confusing traffic flow, parking garages have plenty of qualities that increase the risk of crashing. If you were hurt in such an accident, you may be entitled to compensation. In order to recover a settlement, though, you must be able to prove both liability and damages.
Read on to learn the answers to some of the most frequently asked questions about parking garage car accident claims:
1. Who Could Be Liable for a Collision in a Parking Garage?
When it comes to parking garage car accidents, fault typically lies with at least one of the motorists involved. Anyone in the vicinity who contributed to the conditions that led to the crash but was not directly involved could also be considered partially liable.
Depending on the circumstances, the party responsible for designing or maintaining the structure could shoulder some of the blame. If the owner of the parking structure failed to maintain it to a reasonable standard—for example, by not repairing crumbling concrete, repainting lane markers, or posting signs directing traffic—they could be liable for any accidents that result.
2. How Can I Prove Liability for a Parking Garage Car Accident?
The strongest evidence of fault will depend on the cause of the collision. Below are a few examples of evidence your attorney might use to prove liability:
• Dash cam recordings;
• Surveillance footage;
• Photographs of the accident scene;
• Eyewitness testimony;
• The official police report; and
• Maintenance records for the structure.
3. What Kinds of Damages Might Be Recoverable?
In the state of Minnesota, personal injury claimants have the right to pursue compensation for the following damages:
• Past medical bills;
• Future medical expenses;
• Lost income and benefits;
• Loss of future earning capacity;
• Property damage;
• Alternative transportation;
• Other necessary services like child care, meal prep, and housekeeping;
• Home and vehicle modifications to accommodate any disabilities;
• Loss of enjoyment in life;
• Mental anguish; and
• Pain and suffering.
Additionally, the spouse of the injured party may be entitled to compensation for loss of consortium. This refers to the loss of household services, child care, income, companionship, and sexual relations.
It's not uncommon for the insurance company's first offer to exclude or undervalue some of the damages the claimant has incurred. For instance, the settlement might cover medical bills and lost income but not pain and suffering. Our lawyers can help you account for all potentially recoverable damages.
Call 320-259-5414 to Speak with a Car Accident Attorney in St. Cloud
If you were involved in a parking garage collision with a negligent driver, contact Bradshaw & Bryant to discuss your case. We will listen to your story, carefully review the evidence you've gathered, and help you make informed decisions.
There's no charge for the initial consultation, and we accept personal injury and wrongful death cases on a contingency fee basis. Call 320-259-5414 or fill out our Contact Form to schedule a free case evaluation with a car accident lawyer in St. Cloud.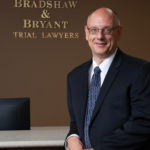 A founding partner with Bradshaw & Bryant, Mike Bryant has always fought to find justice for his clients—knowing that legal troubles, both personal injury and criminal, can be devastating for a family. Voted a Top 40 Personal Injury "Super Lawyer"  multiple years, Mr. Bryant has also been voted one of the Top 100 Minnesota  "Super Lawyers" four times.