In the absence of heavy congestion and poor weather, operating a tractor-trailer on the open highway is a routine task for experienced truckers. Because there are no sharp turns, these large vehicles are easier to control. And since the lanes are wide, they can breathe easy when other motorists pass. What's more, the consistent speed limit and predictable route mean braking on a dime probably won't be necessary.
At some point, though, every big rig has to pull off the highway, and driving becomes a lot more dangerous. Navigating an 18-wheeler on a traditional two-lane road demands considerable skill.
Truckers often have to make fairly wide turns, for example; however, if they take a turn too wide, they could cross over into oncoming traffic or lose control of the vehicle altogether.
If you were hurt in a truck accident because of a miscalculated turn, here's what you should know about holding the trucker or motor carrier liable for the resulting damages:
1. How Can I Prove Fault in a Turn-Related Truck Accident?
To prove fault in a turn-related truck accident, you and your legal team may need to gather some combination of the following:
• Black box data;
• Driver's logs;
• Truck maintenance logs;
• Dash cam footage;
• Recordings from surveillance cameras near the scene;
• Eyewitness deposition;
• Accident reconstruction expert deposition;
• The police report; and
• Photographs of the scene and of the flow of nearby traffic.
Depending on the circumstances, you may also have to disprove your own liability. If the trucker asserts that you were traveling too closely, ignoring traffic signals, or breaking another traffic law, you'll have to compile evidence that corroborates your version of events.
2. What Kinds of Damages Might Be Available Following a Turn-Related Truck Accident?
The damages resulting from a T-bone or sideswipe collision can add up fast. Thankfully, you may be able to recover compensation for all such losses. As long as you have sufficient evidence of liability, causation, and damages, and your case meets the serious injury threshold, you can seek funds for your:
• Medical bills;
• Lost wages;
• Loss of future earnings and benefits;
• Property damage;
• Alternative transportation;
• Home care;
• Child care;
• Domestic help;
• Home and vehicle modifications necessary to accommodate any disabilities;
• Pain and suffering;
• Loss of enjoyment in life; and
• Mental anguish.
You can track the economic damages listed above by saving all relevant records, receipts, and invoices. As for estimating future damages such as loss of earning capacity, your legal team may consult with industry experts and economists.
To track your non-economic damages, start a personal injury journal. In this journal, write detailed entries about the ways in which the injuries are affecting your everyday life.
3. How Long Do I Have to Bring My Truck Accident Case to Court?
In the state of Minnesota, people who are injured in truck accident usually have six years from the day they were hurt to file the lawsuit. If the collision ended up killing someone you love, though, your family has just three years to proceed with a wrongful death suit. And if you want to name a government entity in your claim, you must submit a notice of claim within just 180 days.
Discuss Your Case with a Truck Accident Attorney in St. Cloud
If you were struck by a negligent trucker, contact Bradshaw & Bryant. We are committed to protecting the physical and emotional wellbeing of our clients and restoring their financial security. Call 320-259-5414 or fill out our Contact Form to schedule a free case review with a truck accident lawyer in St. Cloud.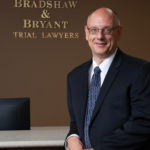 A founding partner with Bradshaw & Bryant, Mike Bryant has always fought to find justice for his clients—knowing that legal troubles, both personal injury and criminal, can be devastating for a family. Voted a Top 40 Personal Injury "Super Lawyer"  multiple years, Mr. Bryant has also been voted one of the Top 100 Minnesota  "Super Lawyers" four times.