While it's true that every personal injury claim is unique, all those that yield a payout involve the same three elements. In order to win a settlement or verdict in your favor, you will have to prove:
• The defendant's conduct constituted negligence, intentional misconduct, or strict liability;
• You were hurt as a direct result of said conduct; and
• You incurred actual damages.
Let's take a closer look at each of these elements so you can start building your claim with confidence:
1. Negligence, Intentional Misconduct, or Strict Liability
Most personal injury claims are founded on negligence, which is characterized by a breach of the duty of care. To prove negligence, you will have to demonstrate how the defendant failed to act with reasonable care given the circumstances.
Intentional misconduct, on the other hand, refers to scenarios in which the defendant purposely set out to cause the plaintiff harm. If you were the victim of assault and battery, for example, you would seek compensation on the grounds of intentional misconduct.
Finally, cases involving strict liability are based on situations in which the defendant didn't necessarily breach the duty of care owed to the plaintiff but is deemed responsible for damages nonetheless. In Minnesota, for example, pet owners can be found strictly liable for injuries their animals cause, even if they trained them well and took precautions to prevent attacks.
2. Causation
To build a winning personal injury claim, it's not enough to prove negligence, intent, or strict liability. Plaintiffs must take it one step further and demonstrate how they wouldn't have gotten hurt but for the defendant's actions (or lack thereof). In other words, you'll have to present evidence that ties the cause of action to the injuries you sustained.
Of course, the strongest evidence of liability will depend on the facts of the case. Generally speaking, though, it will probably include some combination of the following:
• Police reports;
• Eyewitness deposition;
• Surveillance footage or dash cam recordings;
• Photographs of the scene;
• Toxicology reports;
• Cell phone records;
• Social media posts;
• Maintenance records; and
• Deposition from relevant experts.
3. Damages
The third element of every successful personal injury claim is damages. In Minnesota, plaintiffs may seek compensation for the following damages:
• Medical bills;
• The costs associated with ongoing rehabilitation;
• Anticipated healthcare expenses;
• Home care;
• Domestic help;
• Child care;
• Property repairs;
• Alternative transportation;
• Home and vehicle modifications needed to accommodate any permanent disabilities;
• Lost wages;
• Loss of earning capacity;
• Scarring and disfigurement;
• Mental anguish;
• Emotional distress; and
• Pain and suffering.
You can use bills, invoices, receipts, and medical records to demonstrate the extent of your economic damages. As for proving non-economic losses, your attorney will probably advise you to start a personal injury journal in which you record how your condition is impacting your everyday life.
Call 320-259-5414 to Speak with a Personal Injury Attorney in St. Cloud
If you were seriously hurt through no fault of your own, turn to Bradshaw & Bryant to find out if you have grounds for a personal injury claim. For six consecutive years, attorney Michael Bryant has been recognized as a SuperLawyer and has been named among Minnesota's Top 40 Personal Injury Lawyers by Minnesota Law & Politics. Call 320-259-5414 or fill out our Contact Form to schedule a free consultation with a personal injury lawyer in St. Cloud.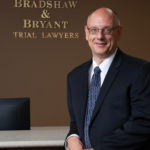 A founding partner with Bradshaw & Bryant, Mike Bryant has always fought to find justice for his clients—knowing that legal troubles, both personal injury and criminal, can be devastating for a family. Voted a Top 40 Personal Injury "Super Lawyer"  multiple years, Mr. Bryant has also been voted one of the Top 100 Minnesota  "Super Lawyers" four times.