If you were seriously hurt after slipping and falling on someone else's property, you may have grounds for a premises liability claim. While there's no way to guarantee that any given claim will yield a payout, there's a good chance the case may be resolved in your favor if you can prove the following:
1. The Property Owner or Occupier Was Negligent
Property owners—and, when applicable, their tenants—owe a duty of care to people who enter their premises. The specific duty of care owed to you at the time of the accident depends on whether you were an invitee, licensee, or trespasser.
If you were an invitee—most of these claims are brought by invitees—meaning that you were on the premises for business dealings with the property owner or occupier, such as a grocery store customer, the property owner or occupier would have had a duty to perform reasonable inspections to look for dangerous conditions, and to fix dangerous conditions within a reasonable timeframe or to warn you about said conditions. If the property owner or occupier breached this duty of care and you were injured in a slip and fall as a result, you may have grounds for a negligence claim.
2. The Breach of Duty Can Be Tied to the Slip and Fall
Just because the owner or occupier was negligent doesn't mean your claim will automatically result in a settlement. To have a strong slip and fall case, you must also demonstrate a link between the negligence and your slip and fall.
For example, if you slipped on an unmarked wet floor, your attorney may use photographs of the scene and deposition from eyewitnesses to illustrate what happened. Surveillance footage of the incident may also be available.
3. You Suffered an Actual Physical Injury
If you didn't actually get hurt after slipping and falling, you won't have grounds for a claim, even if the owner or occupier was negligent. In Minnesota, victims of personal injury may seek compensation for:
Past and future healthcare expenses;
Lost wages;
Loss of future earnings;
Home care;
Home and vehicle modifications;
Domestic help;
Child care;
Other economic damages;
Mental Anguish;
Loss of enjoyment in life; and
Pain and suffering.
If the liable party's conduct constituted a deliberate disregard for the rights of others—perhaps he or she purposely created spills around the property as a kind of prank, for example—you may also be entitled to a punitive award.
Call 320-259-5414 for a Free Consultation with a St. Cloud Premises Liability Lawyer
If you slipped and fell on someone else's property because it was poorly maintained, contact Bradshaw & Bryant. We take great pride in helping the injured pursue the compensation they need to move on with life. Call 320-259-5414 or fill out our Contact Form to schedule a free case evaluation with a premises liability attorney in St. Cloud.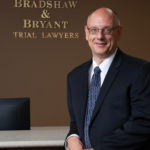 A founding partner with Bradshaw & Bryant, Mike Bryant has always fought to find justice for his clients—knowing that legal troubles, both personal injury and criminal, can be devastating for a family. Voted a Top 40 Personal Injury "Super Lawyer"  multiple years, Mr. Bryant has also been voted one of the Top 100 Minnesota  "Super Lawyers" four times.