Although the dangers of riding are obvious even to those who have never hopped on a hog, some of the most seasoned motorcyclists are unaware of the steps they should take in the event of a collision. Since catastrophic injuries are likely in motorcycle accidents, all riders should know what to do in the aftermath of a crash. Otherwise, they risk jeopardizing their chances of recovering compensation from those liable for their damages.
If you ride, it is also wise to familiarize yourself with some of the most common mistakes people make following wrecks. When your financial security is at stake, knowing what not to do is just as important as knowing how to proceed. Here are a few critical missteps to avoid after a collision:
Admitting Fault 
Never apologize, accept responsibility, or admit fault at the scene. Although Minnesota motorists must file claims under their own no-fault insurance coverage, liability can play a role in certain scenarios.
For example, if a driver or passenger sustains an injury resulting in disfigurement, disability for at least 60 days, or the permanent limitation of an organ, system, or function, he or she can bypass the no-fault system and sue the at-fault driver for damages. There are different guidelines for motorcyclists, though, so it is wise to seek legal counsel following a wreck.
Despite the state's no-fault system, riders do not have to purchase such coverage in Minnesota. Therefore, unless you bought an optional policy, suing the liable driver may be your only option for pursuing compensation. Naturally, this will be more difficult if you admit fault at the scene. 
Postponing Medical Care 
Failing to visit a doctor right away will threaten both your health and your subsequent personal injury claim. Postponing treatment increases the chances of suffering serious complications. It also provides the defendant with the opportunity to argue you are at least partially liable for the severity of your injuries because you put off visiting a doctor.   
Talking to the Insurance Adjuster 
Insurance adjusters are skilled negotiators who enter every interaction with an agenda. It is in your best interests to avoid talking to them at all. Let your personal injury lawyer handle all interactions with the insurance adjuster so you do not feel pressured to provide a recorded statement.  
Failing to Document Everything 
Building a strong motorcycle accident claim begins at the scene. That means photographing the wreck from all angles and obtaining the names and contact information of any eyewitnesses.
Upon leaving the area, it's up to you to document the damages. Photograph visible wounds from day one, and write about your injuries and emotional trauma in a daily journal. Additionally, save all records, receipts, and invoices for expenses you incur related to the accident. 
Call 800-770-7008 to Speak with a Motorcycle Accident Attorney in Minneapolis 
If you were hurt in a wreck while riding, turn to Bradshaw & Bryant. Our motorcycle accident lawyers will help you gather the evidence needed to prove liability and damages. Call 320-259-5414 or fill out our Contact Form to schedule a free case evaluation with a personal injury attorney in Minneapolis.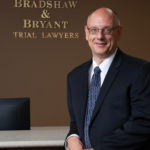 A founding partner with Bradshaw & Bryant, Mike Bryant has always fought to find justice for his clients—knowing that legal troubles, both personal injury and criminal, can be devastating for a family. Voted a Top 40 Personal Injury "Super Lawyer"  multiple years, Mr. Bryant has also been voted one of the Top 100 Minnesota  "Super Lawyers" four times.