Glyphosate-based weed killers have recently been linked to the development of certain kinds of cancer. Since the discovery of this link, more than 8,000 lawsuits have been filed against Monsanto, the company that developed Roundup and Ranger Pro—two of the most popular herbicides containing glyphosate.
If you or someone you love was diagnosed with non-Hodgkin lymphoma following exposure to Roundup, you may have grounds for a claim against Monsanto. Whether your case has merit will depend on a number of factors such as:
1. Whether You Can Prove You Used the Herbicide
You must have sufficient evidence that you actually used one of Monsanto's glyphosate-based weed killers. Otherwise, there's no way to prove that exposure to glyphosate was the proximate cause of your diagnosis.
You may be able to demonstrate usage with receipts, landscaping invoices, partially used bottles, and—if you sprayed the product at work—standard operating procedures. Second-hand exposure to glyphosate—by drinking water in rural areas, for example—may also contribute to cancer, but researchers have yet to confirm just how harmful this can be.
2. The Extent of Your Exposure
Claimants who were exposed to Roundup for several hours at a time over many years will likely have a stronger claim against Monsanto than those who had scarce and infrequent exposure. The same evidence to prove usage may also be used to prove the extent of your exposure.
3. The Amount of Time That Passed Between Exposure and Diagnosis
If you used Roundup to target the weeds growing in the cracks in your driveway one week and you were diagnosed with cancer the next, it's unlikely that there's a link between the two. Cancer resulting from glyphosate exposure appears to take at least two years to develop. As such, the court will consider the latency period between when you first used Roundup and when you were finally diagnosed.
4. Whether Your Diagnosis Has Been Linked to Glyphosate
Has research established a link between glyphosate and your particular diagnosis? Proving causation is an essential component of winning a settlement or verdict in a product liability case. Several kinds of cancer including non-Hodgkin lymphoma have been linked to glyphosate.
5. Existing Confounders
If your case involves any variables that could have led to your diagnosis regardless of exposure to Roundup, it may be difficult to hold Monsanto liable for your damages. Potential confounders include:
• Tobacco use;
• Immunosuppressants;
• Prior radiation and/or chemotherapy;
• A diagnosis of HIV/AIDS;
• Exposure to Agent Orange; and
• Repeated exposure to other kinds of carcinogens.
Discuss Your Claim with a Personal Injury Attorney in St. Cloud
If you want to file a product liability claim against Monsanto following exposure to Roundup, contact Bradshaw & Bryant to determine the most strategic way to proceed. Our attorneys understand the emotional and financial toll that a cancer diagnosis can take on the whole family. We will passionately represent you through every stage of the proceedings. Call 320-259-5414 or fill out our Contact Form to schedule a free consultation with a personal injury lawyer in St. Cloud.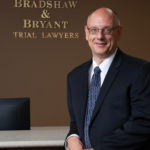 A founding partner with Bradshaw & Bryant, Mike Bryant has always fought to find justice for his clients—knowing that legal troubles, both personal injury and criminal, can be devastating for a family. Voted a Top 40 Personal Injury "Super Lawyer"  multiple years, Mr. Bryant has also been voted one of the Top 100 Minnesota  "Super Lawyers" four times.