When you go out to eat with your family, it's reasonable to assume you'll return home in one piece. As many personal injury claimants have learned the hard way, though, that's not always the case.
From hot plates to broken glasses, restaurants pose all kind of hazards to patrons. Slip and fall accidents are especially common at eateries because the staff doesn't always clean up spills promptly.
Thankfully, if you slipped or tripped at a dining establishment, you probably have grounds for legal action. Putting together a strong case will allow you to seek compensation for the damages you incur in the aftermath. Let's take a look at the kinds of evidence you'll likely need to gather to get started:
1. Surveillance Footage of the Accident
If the restaurant where you were hurt has a surveillance system, there's a good chance the accident was captured by one or more cameras. Since the establishment is not required to preserve any such footage indefinitely, however, you're going to want to request copies as soon as possible. Nowadays, many surveillance systems overwrite their footage in a matter of weeks.
2. Eyewitness Testimony
Statements from those who witnessed the incident—or the hazard that led to it—should corroborate your own testimony. This is why personal injury attorneys encourage accident victims to obtain the names and phones numbers of all those who saw what happened before leaving the area. Such parties might include members of the waitstaff and other patrons.
3. The Facility's Standard Operating Procedures
Why was the hazard in question left alone long enough for someone to slip and fall on it? You might find the answer in the establishment's hiring practices, training manuals, or job descriptions.
4. Photographs of the Hazard
Images of the wet floor, unmarked threshold, broken stair, or other hazard that ultimately caused you to slip or trip will serve as the foundation of your negligence claim. If you were unable to photograph the scene in the chaos that followed the accident, send a friend or loved one back to the premises as soon as possible. Even if staff addressed the dangerous condition, images of the updated area accompanied by a detailed description of what caused you to fall will support your claim.
5. Medical Records
Your medical records will provide a paper trail that links the incident to your injuries, thereby proving causation. They will also help demonstrate the extent of your damages. As such, it's imperative to preserve the documentation that's produced at every appointment, including diagnostic images, medication prescriptions, and progress evaluations.
Discuss Your Case with a Restaurant Injury Attorney in St. Cloud
If you were hurt while dining at a restaurant, the tireless team at Bradshaw & Bryant may be able to help. Our seasoned attorneys are well-versed in premises liability, and we know how to hold negligent owners and occupiers liable for their oversights. Call 320-259-5414 or complete our Contact Form to schedule your free initial consultation with a restaurant injury lawyer in St. Cloud.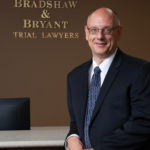 A founding partner with Bradshaw & Bryant, Mike Bryant has always fought to find justice for his clients—knowing that legal troubles, both personal injury and criminal, can be devastating for a family. Voted a Top 40 Personal Injury "Super Lawyer"  multiple years, Mr. Bryant has also been voted one of the Top 100 Minnesota  "Super Lawyers" four times.