If you slipped or tripped on someone else's property, you may be entitled to compensation for the associated damages. Both owners and occupiers must maintain their premises to a reasonably safe standard for those who are legally allowed to enter them. When they fail to do so, they're often deemed liable for the resulting losses.
Just because you have grounds for a premises liability claim, however, doesn't mean you're automatically entitled to a payout. Before you can recover any funds for your medical bills and lost wages, you're going to have to put together a strong case.
Read on for a few viable strategies to help you get started doing just that:
1. Save Any Evidence from the Scene
If you managed to photograph the hazard that caused you to slip or trip, make copies of the images before storing the files in more than one location. You should also find a safe place for any statements you obtained from those who witnessed the accident.
2. Compile Official Reports
If you fell at a place of business, the manager on duty should have written an incident report. And if you needed emergency medical care, the first responders may have drafted a formal report. The contents of these documents will provide a starting point for the investigation, so make sure to request copies as soon as possible.
3. Follow All Medical Advice
As a personal injury claimant, you have an obligation to mitigate damages. Otherwise, you could be considered partially liable for their severity.
That means you must make an active effort to follow your doctor's orders. This might include staying home from work, taking medication as prescribed, and attending physical therapy.
4. Track Recoverable Damages
You may only pursue compensation for the damages that you can prove you actually incurred. As such, you're going to want to log all injury-related expenses diligently. Save all receipts, bills, invoices, and other associated documents, so you can refer to them when it comes time to determine a starting point for the negotiations.
5. Seek Legal Counsel
While you may go up against the insurance carrier alone, it's generally advisable to hire a premises liability attorney to handle all the logistics of your case. With so much at stake, you need to put together the strongest claim possible, which is exactly what a lawyer will help you do.
Your legal team will conduct an in-depth investigation, depose eyewitnesses, interview relevant experts, calculate damages, and negotiate for a fair payout. Should the insurer refuse to cooperate, your attorney can also prepare your case for court.
Call 320-259-5414 to Discuss Your Case with a St. Cloud Premises Liability Lawyer
At Bradshaw & Bryant, we know what it takes to hold negligent property owners accountable for their oversights. If you slipped or tripped while running errands or visiting a friend's apartment complex, we'll help you compile the evidence needed to take action against all responsible parties. Fill out our Contact Form or call 320-259-5414 to schedule a free initial consultation with a premises liability attorney in St. Cloud.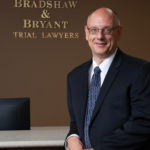 A founding partner with Bradshaw & Bryant, Mike Bryant has always fought to find justice for his clients—knowing that legal troubles, both personal injury and criminal, can be devastating for a family. Voted a Top 40 Personal Injury "Super Lawyer"  multiple years, Mr. Bryant has also been voted one of the Top 100 Minnesota  "Super Lawyers" four times.