On March 5, 2022, attorney Michael Bryant of Bradshaw & Bryant will be taking the plunge for Special Olympics Minnesota. For the 16th year in a row, Minneapolis will be hosting the Polar Plunge, a fun-filled—but frigid!—weekend that aims to raise money for a great cause.
The biggest annual fundraiser for Special Olympics Minnesota, the Polar Plunge pushes hearty individuals to the extreme by hosting swims in freezing bodies of water. Presented by the Law Enforcement Torch Run, the event asks each participant to collect at least $75 in donations. Many "polar bears" end up raising considerably more, and all the funds go toward providing year-round training and services to the more than 8,100 athletes who compete in Minnesota's Special Olympic games across the state.
Attorney Michael Bryant is one of the many brave souls who has committed to grin and "bear" at 2022's event, and he'd love your support. Don't worry, though; he's not asking you to take the plunge, too.
You can support thousands of heroic athletes with intellectual disabilities—and stay warm and dry in the process—by helping Michael reach his personal fundraising goal. If you want to make a pledge, simply head to his page. Any amount is greatly appreciated and gets him one step closer to his goal. (Or if you decide you do want to join him, register here, and then set up your own donation page for the cause!)
That's all there is to it! As the date approaches, send warm thoughts his way, and then cross your fingers for a record-high temperature that day! Regardless of what the thermometer says, though, Michael will make his supporters proud.
A Managing Partner at Bradshaw & Bryant, Michael is a compassionate personal injury attorney who has been advocating for "the underdog" for decades. He knows the devastating toll that unanticipated injures can take on the whole family, and he works tirelessly to secure each and every client the compensation they deserve.
If you or someone you love was seriously hurt because another party was reckless or negligent, attorney Bryant will use all the resources at his disposal to help you seek justice. After investigating the circumstances surrounding the accident, compiling evidence of liability, and tracking recoverable damages, he can help you pursue a fair payout. He is well-versed in all kinds of tort claims, including those involving:
• Motor-vehicle collisions,
• Catastrophic injuries,
• Slip and fall accidents,
• Airplane accidents,
• Boating accidents,
• Construction site accidents,
• Animal attacks,
• Sporting event injuries,
• Medical malpractice, and
• Wrongful death.
For more than 30 years, the trial attorneys at Bradshaw & Bryant have been helping injured parties and their loved ones pick up the pieces in the aftermath of tragedy. They aggressively represent accident victims and aren't afraid to go up against even the largest insurers. If you're recovering from injuries that could have been prevented had someone acted with reasonable care, fill out our Contact Form or call 800-770-7008 to schedule a free case review with a personal injury lawyer in Minneapolis.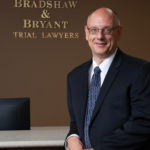 A founding partner with Bradshaw & Bryant, Mike Bryant has always fought to find justice for his clients—knowing that legal troubles, both personal injury and criminal, can be devastating for a family. Voted a Top 40 Personal Injury "Super Lawyer"  multiple years, Mr. Bryant has also been voted one of the Top 100 Minnesota  "Super Lawyers" four times.