Companies that design, manufacture, and distribute consumer products have a duty to take reasonable measures to ensure their products are safe. If a product has an inherently dangerous design or if a defect develops during the manufacturing or distribution process and this results in an injury, victims may have grounds for a claim against the liable parties. Product liability claims can also be brought against companies that fail to place adequate safety warnings on their products.
If you or someone in your family was injured by a defective product, you may be entitled to compensation; however, there are certain steps you must take for your claim to be successful.
The St. Cloud personal injury attorneys at Bradshaw & Bryant will guide you through every stage of the claims process and help you fight for a fair settlement. Our product liability attorneys will conduct a thorough investigation into your case, gather evidence, and ensure your claim includes all of the damages to which you may be entitled. Call us today at 320-259-5414 to schedule a free consultation.
5 Steps to Take After Being Injured by a Defective Product in Minnesota 
If you or someone in your family gets hurt while using a defective product, you should take the following five steps immediately to give your claim a favorable chance of success:
Preserve the Item and Proof of Purchase 
Save the item that caused your injuries, but do not tamper with it in any way. Simply put it in a safe place until you can meet with a personal injury lawyer.
You should also save any documentation regarding its purchase and use. If you sustained injuries while using a defective medical device, for example, this documentation might include relevant medical records or the actual prescription. If you were hurt while using a power tool, on the other hand, essential documentation might include the purchase receipt and any paperwork detailing the product's warranties. 
Seek Medical Care 
Your health should be your main priority following any kind of accident involving a defective product. Delaying your medical evaluation not only could cause your injuries to worsen, but it might also lead to a liability dispute since the opposing party could argue that your injuries were caused by something else or that your postponement of medical care contributed to their severity. 
Document the Healing Process 
Photograph all visible wounds daily to record their progression. Take detailed notes on any psychological effects of your injury and other ways your injury is affecting your day to day wellbeing. 
Check the News 
Defective products and contaminated food rarely hurt just one person. If you sustained injuries or contracted an illness from using a defective product, chances are others have, too.
Do some research to see if other consumers have had similar issues. If so, follow the steps for reporting your case.
When there is an outbreak of salmonella, for example, the Centers for Disease Control and Prevention urge everyone who is affected to report it so they can pinpoint the cause and contain the spread of the illness. Likewise, if you come across a pending class action lawsuit, write down any questions you have about the suit to ask your attorney during the initial consultation. 
Call a St. Cloud Product Liability Lawyer 
After you have addressed any immediate injuries, contact a product liability lawyer. An attorney from Bradshaw & Bryant will evaluate your case in a free consultation to determine if you may have grounds for a claim.
Discuss Your Case with a Minnesota Product Liability Attorney Today! 
The personal injury attorneys at Bradshaw & Bryant are proud to provide compassionate and tenacious legal representation to clients in Golden Valley, Waite Park, and throughout Minnesota. Call 320-259-5414 or fill out our Contact Form to schedule a free case evaluation with a product liability lawyer.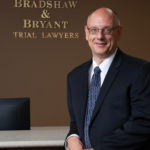 A founding partner with Bradshaw & Bryant, Mike Bryant has always fought to find justice for his clients—knowing that legal troubles, both personal injury and criminal, can be devastating for a family. Voted a Top 40 Personal Injury "Super Lawyer"  multiple years, Mr. Bryant has also been voted one of the Top 100 Minnesota  "Super Lawyers" four times.