It's been great to have a forum to talk about making the world safer, but even more important has been the opportunity to learn from Injuryboard posts by great lawyers across the country. Here's the list of what the most viewed pieces have been for 2010.
Consumer Reports on Protein Powder Plus Metals, Jane Akre June 01, 2010 8:00 PM
Cell Phone Dialing and Texting While Driving – How Many Deaths and Serious Accidents Will it Take??, Craig Kelley | April 16, 2008 11:40 PM
Gardasil Rival Cervarix More Effective Maker Says, Jane Akre July 07, 2009 10:42 AM
Lawsuits Allege Antipsychotic Medications Caused Noticeable Breast Growth in Men, David Mittleman | January 08, 2010 10:27 AM
One Quarter Teens Get Merck HPV Vaccine, Jane Akre, October 10, 2008 12:03 AM
Tylenol Recall Expands To Include Motrin, Benadryl, St. Joseph Aspirin, and Rolaids, Mike Bryant | January 17, 2010 9:50 AM
2010 USMC Mud Run: Let's Get Down and Dirty, Pete Strom | April 22, 2010 10:32 AM
Toyota Recall: A Time Line Of Toyota's Checkered Safety History, Brett Emison | February 10, 2010 7:01 PM
Toyota Sudden Acceleration Recall: Anonymous Whistle Blower IDs Cracked Throttle Bodies, Brett Emison | January 25, 2010 5:30 PM
Toyota Sticky Throttles – Another Recall, Greg Webb | January 26, 2010 3:18 PM
I look forward to reading more of this great stuff in 2011.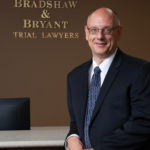 A founding partner with Bradshaw & Bryant, Mike Bryant has always fought to find justice for his clients—knowing that legal troubles, both personal injury and criminal, can be devastating for a family. Voted a Top 40 Personal Injury "Super Lawyer"  multiple years, Mr. Bryant has also been voted one of the Top 100 Minnesota  "Super Lawyers" four times.