I've written about the use of tasers by police in the past. Many cases depend on what was going on and if the use was justified. There are also questions about whether there was enough training to make sure the use was done properly. A tape from Arizona has the issue up front again:
http://www.youtube.com/watch?v=-1293mS_7xE&feature=player_embedded
You seem to have a number of camps in reading the comments:
– Those who seem to just enjoy watching someone get tased.
– The group who want to justify whatever the police do and seem OK with any level of police state. If you watch all the way to the end, you will see a woman who wants to justify it with a simple "he didn't put his hands down".
– The group who have a problem with a retarded man being tased.
For me, it's better than if they had shot him. But, seems to me that enough time went by to get beyond any danger that would have required the man to be tased.
It is too dangerous to tase someone to just do it without a reason. I didn't see the man make a move and it sounds like it was clear that he was mentally handicapped. Society needs to do a better job with dealing with a man in this state than tasering him to the ground.
If something like this should happen to you., see your doctor and document the names of everyone around. These type of cases can involve insurance issues concerning governmental immunities and municipal liability caps. Please keep in mind that there may be time limits within which you must commence suit.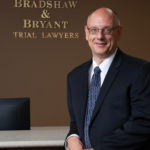 A founding partner with Bradshaw & Bryant, Mike Bryant has always fought to find justice for his clients—knowing that legal troubles, both personal injury and criminal, can be devastating for a family. Voted a Top 40 Personal Injury "Super Lawyer"  multiple years, Mr. Bryant has also been voted one of the Top 100 Minnesota  "Super Lawyers" four times.