We saw it with Natasha Richardson and with Billy Mays . A death after suffering what was a unintentional fall and a resulting head injury.  Apparently, on Bob Saget hit his head after falling backwards.  The next morning he was found dead in his hotel room.  Much more will need to be found out about what happened.  If nothing else this may again remind people about the importance of checking out head injuries.
The issue that was important to keep in mind following these deaths, is that it wasn't immediately obvious.  Richards  struck her head and got up like nothing was wrong. People who fall are embarrassed and feel dumb for having fallen. What doctors have found is that with injuries to the brain there will be swelling and bleeding. There simply isn't enough room inside the skull. The resulting damage to brain tissue will be irreversible and can lead to death if it goes unchecked.
Any person concerned about a head injury should get into the doctors and be looked at thoroughly and immediately. Wayne Parsons, a fellow Injuryboard member, covered why in a way that all people should take the time to read.
Sympathy goes out to the Saget family and friends. He will be remembered as a great comedian and everyone's Dad that seemed to love his work. Hopefully, many people will remember and learn from his passing.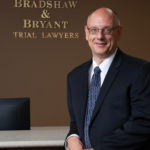 A founding partner with Bradshaw & Bryant, Mike Bryant has always fought to find justice for his clients—knowing that legal troubles, both personal injury and criminal, can be devastating for a family. Voted a Top 40 Personal Injury "Super Lawyer"  multiple years, Mr. Bryant has also been voted one of the Top 100 Minnesota  "Super Lawyers" four times.