Under Minnesota tort law, car accident victims are entitled to compensation for loss of enjoyment in life. Before you can include this loss in your claim, however, you're going to have to find a way to prove that you actually incurred it.
Like other kinds of non-economic damages, loss of enjoyment in life is not accompanied by any formal documentation. As such, claimants must get creative when it comes time to demonstrate the extent of this loss. Thankfully, there are a few widely accepted ways to do so. Read on to learn what they are:
1. Detailed Journal Entries
Personal injury attorneys encourage all their clients to start writing in a journal as soon as possible (ideally the same day on which they were hurt). These entries should detail the everyday hurdles you face as a result of your injuries. Topics worth addressing include:
• Essential tasks you're no longer able to handle yourself,
• Any negative side effects of the medications you're taking,
• Social outings you're unable to attend,
• The amount of time you spend sleeping or otherwise sitting at home doing nothing,
• Depression and anxiety you're experiencing,
• Loneliness or isolation you're struggling with, and
• The amount of time you spend at doctor's offices.
2. Statements from Colleagues & Loved Ones
Those who knew you fairly well before the accident can speak on the changes they noticed in your mood, behavior, and demeanor after. Write a list of everyone who might be willing to testify on your behalf, and then give their names and contact numbers to your legal team.
3. Calendar Records
Whether you keep a written or digital calendar—or both—entries from before the accident can highlight just how much you've been missing out on since. If your calendar was once full of outings like book club meetings and hiking excursions, for example, but is now utterly empty except for doctor's appointments, it's going to highlight just how much your quality of life has diminished because of your injuries.
4. Psychological Evaluations
If you feel comfortable undergoing a psychological evaluation, the results could be integral to your claim for non-economic damages. After spending a fair amount of time with you, a knowledgeable professional can speak on the ways in which your injuries are impacting your mental and emotional health. As long as they have the credentials of a reputable expert, the insurance adjuster should accept their evaluation.
Call 320-259-5414 for a Free Consultation with a St. Cloud Car Accident Attorney
For help putting together your car accident claim, turn to Bradshaw & Bryant. For more than 30 years, our firm has been advocating for accident victims and their loved ones.
Regardless of the circumstances surrounding the wreck in which you were hurt, we've got the knowledge and experience to conduct a comprehensive investigation. We'll then use all the resources at our disposal to gather the evidence needed to prove liability. Call 320-259-5414 or complete our Contact Form to set up a free case review with a car accident lawyer in St. Cloud.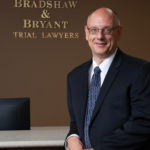 A founding partner with Bradshaw & Bryant, Mike Bryant has always fought to find justice for his clients—knowing that legal troubles, both personal injury and criminal, can be devastating for a family. Voted a Top 40 Personal Injury "Super Lawyer"  multiple years, Mr. Bryant has also been voted one of the Top 100 Minnesota  "Super Lawyers" four times.