It's easy to overlook the emotional impact of a car accident because any resulting injuries demand immediate attention. Motor-vehicle collisions are inherently traumatic, though, and they can affect your mental state long after the physical wounds have healed.
If you were hurt in a collision and you've been struggling psychologically ever since, the following tips may help:
1. Start a Journal
Researchers have found that expressive writing can help relieve stress and anxiety following a traumatic event. To reap the benefits of this journaling exercise, simply write about the negative thoughts and emotions you've been feeling in the wake of the accident.
If you're diligent about journaling and you document the recovery process in detail, these entries could also contribute to your personal injury claim. In Minnesota, car accident victims who are seriously injured may pursue compensation for non-economic damages like pain and suffering, mental anguish, and loss of enjoyment in life, which daily journal entries can help prove.
2. Take Care of Yourself
If you're recovering from severe injuries, working out is probably at the bottom of your to-do list; however, getting in some gentle exercise every day could improve your mental health immensely and ultimately keep depression and anxiety at bay. Once your condition stabilizes, your primary care provider can refer you to a physical therapist, who will teach you exercise techniques that will not aggravate your injury.
3. Stick to a Schedule
If you're unable to work, your day probably has little structure. Since humans thrive on routine, it's wise to devise some sort of schedule as long as you're recovering. For example, try to wake up at the same time every day, even if you don't necessarily have anywhere to be.
Likewise, make time for journaling and exercising. If you perform these activities at the same time every day, you'll be less inclined to skip them. You should also try to socialize every day, whether it's with loved ones, friends, or home care workers, because loneliness and isolation can contribute to depression.
4. Build a Support Group
Asking for help doesn't mean you're weak; it means you're strong enough to acknowledge there's a problem and you're ready to face it with reinforcements. Since virtually everyone who's recovering from serious injuries is going to need help at some point, it's wise to take a proactive approach by building a support group.
Your support group might be composed of friends, family members, colleagues, clergy members, and clinicians. It may also include an actual support group, whether in person or online, that's made up of individuals who are facing the same kinds of hurdles you are.
Speak with a St. Cloud Car Accident Attorney Today
At Bradshaw & Bryant, we understand the physical, emotional, and financial toll a car accident can have on your life. We will use all the resources at our disposal to help you pursue the maximum payout possible.
For six consecutive years, attorney Michael Bryant has been recognized as a Super Lawyer and has been named among the state's Top 40 Personal Injury Lawyers by Minnesota Law & Politics. Call 320-259-5414 or fill out our Contact Form to schedule a free case evaluation with a car accident lawyer in St. Cloud.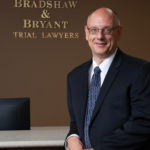 A founding partner with Bradshaw & Bryant, Mike Bryant has always fought to find justice for his clients—knowing that legal troubles, both personal injury and criminal, can be devastating for a family. Voted a Top 40 Personal Injury "Super Lawyer"  multiple years, Mr. Bryant has also been voted one of the Top 100 Minnesota  "Super Lawyers" four times.