If you were hurt while using a defective product, you may be entitled to compensation for the resulting medical bills, lost income, pain and suffering, and other economic and non-economic losses you've incurred. To obtain a financial recovery, though, you must be able to prove both liability and damages.
Besides the product that caused your injuries, evidence of liability might also include blueprints, schematics, expert witness testimony, and consumer complaints about the defect. When it comes to proving damages, your attorney may use the following:
Medical Records 
Detailed medical records can provide a clear picture of the injuries you sustained, the treatments you have undergone, and any care you will need in the future. Be sure to store all medical records in a safe place so they're readily accessible for your consultation with an attorney. It's also a good idea to make copies of those documents.
If you haven't seen a doctor yet, make an appointment right away. The sooner your injuries can be officially documented, the stronger your case will be. If you postpone treatment, the opposing party might argue that you haven't taken the necessary steps to mitigate your damages, which could ultimately reduce the value of your claim. 
Photographs 
Photograph any visible injuries daily to document their progression. Diagnostic images can also serve as valuable evidence, so be sure to save all X-ray, MRI, and CT scan results. 
Journal Entries 
Journal entries can contextualize the effects your injuries are having on your life. This may help your attorney prove non-economic damages like pain and suffering, mental anguish, and loss of enjoyment. You should start a personal injury journal as soon as possible, while the facts surrounding your injury are still fresh on your mind.
The first entry should describe the incident that caused your injuries in detail. Then, write daily entries about the recovery process, any medication side effects, and the challenges you and your loved ones are facing due to your injuries. 
Statements from Loved Ones 
Statements from friends and family members can also help you demonstrate the extent of your damages. For example, they might have to miss work to drive you to doctor's appointments or help with child care. They may also be able to comment on the impact the injuries appear to be having on your wellbeing. 
Call 320-259-5414 for a Free Consultation with a St. Cloud Product Liability Attorney 
If you want to sue a manufacturer or retailer for damages caused by a defective product, contact Bradshaw & Bryant. We have the skills, experience, and resources to go up against even the largest corporations and their insurance companies. If the opposing party refuses to settle, our seasoned trial attorneys are not afraid to go to court.
For six consecutive years, attorney Michael Bryant has been named among the state's Top 40 Personal Injury Lawyers by Minnesota Law and Politics. Call 320-259-5414 or use our Online Contact Form to set up a free case evaluation with a product liability lawyer in St. Cloud.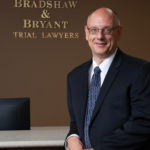 A founding partner with Bradshaw & Bryant, Mike Bryant has always fought to find justice for his clients—knowing that legal troubles, both personal injury and criminal, can be devastating for a family. Voted a Top 40 Personal Injury "Super Lawyer"  multiple years, Mr. Bryant has also been voted one of the Top 100 Minnesota  "Super Lawyers" four times.