If you were involved in a truck accident through no fault of your own, you may be entitled to compensation for both economic and non-economic damages. Economic damages include lost wages, medical bills, and other objectively verifiable expenses. Non-economic damages include subjective costs like pain and suffering, mental anguish, and lost enjoyment in life.
Tracking economic damages might be straightforward if your injuries were minor and temporary. But if you suffered a serious injury, calculating both economic and non-economic damages may require a thorough investigation, complex calculations, and input from relevant experts.
Non-Economic damages can make up a considerable portion of a personal injury settlement or verdict. But due to their intangible nature, these damages cannot be proven using receipts and invoices alone.
Below are just a few kinds of evidence your truck accident lawyer might use to prove non-economic damages:
Photographs of Visible Injuries 
Most truck accident victims sustain bruises, lacerations, or other visible injuries. Photographs of these injuries may help your lawyer demonstrate their severity and justify an award of pain and suffering damages. Photos of permanent scarring or disfigurement will also strengthen your claim. 
Your Personal Injury Journal 
It's wise to start a daily journal immediately following the accident. In this journal, you should write about the ways in which the injuries are affecting your everyday life. You can also track doctor's appointments and discuss any unanticipated complications that arise during the course of treatment such as medication side effects. 
Medical Expert Witness Testimony 
Medical experts who specialize in the kinds of injuries you sustained can provide testimony regarding your prognosis. Their testimony will be especially valuable if you aren't expected to make a full recovery or if there's a dispute regarding the severity of your condition. For example, if you sustained a traumatic brain injury, neurologists and psychologists can explain how such an injury might affect your future wellbeing in addition to your finances. 
Testimony from Loved Ones and Caregivers 
Serious injuries can cause a noticeable change in the victim's mood, demeanor, and personality. It's not uncommon for attorneys to use testimony from loved ones and caregivers to prove non-economic damages.
Depending on the circumstances, certain loved ones may also be entitled to non-economic damages. For example, in the state of Minnesota, an accident victim's family members may be able to seek compensation for loss of companionship or consortium. 
Discuss Your Case with a Truck Accident Attorney in St. Cloud 
If you want to file a personal injury or wrongful death claim after a truck accident in Minnesota, contact Bradshaw & Bryant to determine the most strategic way to proceed. Our attorneys understand the emotional, physical, and financial toll a serious accident can have on the entire family.
We will devote the necessary time and resources to help you fight for the full compensation you deserve. Use our Contact Form or call 320-259-5414 to arrange a free case evaluation with a truck accident lawyer in St. Cloud.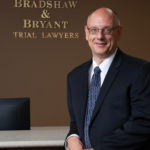 A founding partner with Bradshaw & Bryant, Mike Bryant has always fought to find justice for his clients—knowing that legal troubles, both personal injury and criminal, can be devastating for a family. Voted a Top 40 Personal Injury "Super Lawyer"  multiple years, Mr. Bryant has also been voted one of the Top 100 Minnesota  "Super Lawyers" four times.