If you were hurt in a truck accident through no fault of your own, you may have grounds for a personal injury claim against the driver, motor carrier, and/or another liable party. To win a settlement or verdict, you must be able to prove the kinds of damages you have incurred as a result of the collision and their value. For this reason, it is wise to start tracking your damages from day one.
In the state of Minnesota, the following damages may be recoverable after a truck accident that resulted in serious injury:
• Past and future healthcare expenses;
• Home care;
• Domestic help;
• Child care;
• Property damage;
• Alternative transportation;
• Home and vehicle modifications necessary for accommodating new disabilities;
• Lost wages;
• Lost benefits;
• Loss of future earnings;
• Pain and suffering;
• Mental anguish; and
• Loss of enjoyment in life.
As you might suspect, tracking economic damages like medical bills and lost wages calls for different methods than tracking non-economic damages like pain and suffering. In this blog, we will focus on tracking the economic damages you may incur in the wake of a truck accident. Since such damages can make up a signification portion of the potential settlement or verdict—and the opposing party will be looking for opportunities to dispute your damages—it is important that you track them diligently.
How to Track Economic Damages Following a Truck Accident
There are many kinds of documentation your attorney may use to prove the existence and value of your economic damages. Examples include:
• Hospital bills;
• Pharmacy receipts;
• Invoices for any reasonable and necessary home care, domestic help, and/or child care;
• Receipts for transportation to and from doctor's appointments;
• Quotes or receipts from your mechanic for any necessary repairs;
• Quotes from a contractor for necessary home modifications; and
• Paystubs, tax returns, and other financial documents that demonstrate the amount of compensation you've lost as a result of your injuries.
Whenever you receive any of the above documents, file them in a safe place. If possible, try to save digital copies onto a cloud drive so they are preserved and so your attorney will have easy access to them.
Besides the documentation listed above, your lawyer may also use expert witness deposition to prove damages. Potential experts include economists who can provide deposition regarding the value of lost earning capacity; your treating physician; and other medical experts who can provide deposition regarding the kinds of injuries you've sustained, their severity, the most appropriate course of treatment, and the cost of necessary medical care.
Speak with a St. Cloud Truck Accident Attorney Today
If you or someone you love has suffered injuries in a collision with a tractor-trailer, contact Bradshaw & Bryant. Our resourceful attorneys will help you gather the evidence needed to give your case the best possible chance of resulting in a fair settlement or verdict. Call 320-259-5414 or fill out our Contact Form to schedule a free consultation with a truck accident lawyer in St. Cloud.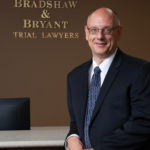 A founding partner with Bradshaw & Bryant, Mike Bryant has always fought to find justice for his clients—knowing that legal troubles, both personal injury and criminal, can be devastating for a family. Voted a Top 40 Personal Injury "Super Lawyer"  multiple years, Mr. Bryant has also been voted one of the Top 100 Minnesota  "Super Lawyers" four times.