For the first time, a bill to ban use of handheld cell phone use by Minnesota drivers passed an important hurdle.  Tuesday, the Public Safety Committee of the Minnesota House passed the bill, an important step in getting the bill enacted. The law has never passed out of committee before.
The StarTribune noted:
 On Tuesday, a parade of speakers from the State Patrol, the Department of Public Safety, the Insurance Federation of Minnesota, the Minnesota Safety Council and the Minnesota Trucking Association all lobbied the House Public Safety Committee to pass the bill. The most passionate plea came from Greg Tikalsky, of New Prague, whose father, Joe, was killed when a driver looking at her phone ran him down as he crossed a country road in front of his house to get his newspaper on Oct. 28, 2015.

"There are not a lot of times you can pass a bill that makes a difference for everybody," said Rep. Mark Uglem, R-Champlin, one of the bill's lead authors. The evidence about distracted driving is "indisputable," he said
But there's still more hurdles.  The bill was referred to House Ways and Means Committee, and eventually must be passed by the House and the Senate.  The Senate has never passed a version of the bill out of committee.
The bills passed from each house have to be identical or they go to a conference committee. Finally, the Governor would have to sign the bill into law.
The Senate version SF 837 currently sits in a committee chaired by Maple Grove Republican Warren Limmer. Although a well-known conservative, Limmer won a Minnesota Trial Lawyer Association award after shepherding a bill protecting consumers early in his legislative career.
Mike Bryant and I have blogged about the dangers of cell phones and distracted driving repeatedly. Here are just a few: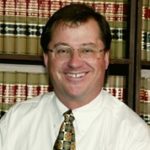 As a partner with Bradshaw & Bryant, Joe Crumley has over 30 years experience helping injured people and their families to secure just and fair compensation. Excelling in personal injury litigation, Mr. Crumley has secured numerous record-setting verdicts and settlements and won accolades such as MTLA's "Trial Lawyer of the Year" and "Excellence" Awards.