Consumers have a reasonable expectation that the medications they take, the foods they eat, and the items they purchase are relatively safe when consumed or used as intended. For injured parties all over the country, though, this is not the case.
The fact that manufacturers recall hundreds of thousands of units of various products every single day highlights the potential for widespread product liability claims. Since every state handles such cases differently, though, it is important to review the laws in your own home state, even if you want to sue a corporation that operates on a national or global scale.
In Minnesota, for example, there are three kinds of product liability claims. Under state law, you can file a case on the grounds of:
Strict liability;
Negligence; or
Breach of implied warranty.
Whether you need to prove negligence in order to recover compensation for the damages depends on the kind of claim you are filing. If your injuries were the result of using a product with a manufacturing defect, you could sue on the grounds of strict liability. Cases that involve design defects, on the other hand, can be pursued on the grounds of negligence, as can those resulting from a failure to warn.
What Kinds of Claims Require Proof of Negligence? 
Although strict liability often applies in cases involving defective products, certain scenarios require claimants to prove the defendant's negligence played a role in the accident that ultimately led to their injuries. These include cases involving design defects and those stemming from failure to warn.
In the context of product liability in Minnesota, "failure to warn" means that the manufacturer did not provide consumers with adequate warnings or instructions detailing the safe and intended use of the product. Manufacturers must also address any ways they anticipate consumers might attempt to use their products.
At the end of the day, manufacturers have a duty of care to protect those who use the goods they produce. Failure to warn could be considered a breach of this duty and therefore constitute grounds for a personal injury lawsuit on the basis of negligence.
What Are the Essential Elements of Any Successful Product Liability Claim? 
Regardless of the type of claim you might be filing and any negligence requirements, there are a few essential elements that make up every successful product liability suit. Pursuant to Minnesota law, you must prove:
The product was in its defective condition at the time of sale;
The defect was present even after the product left the defendant's control; and
The defect was directly responsible for any damages you or your family incurred. 
Call 800-770-7008 to Speak with a Product Liability Attorney in St. Cloud
If you or someone in your family was hurt while using a defective product, turn to the accident lawyers at Bradshaw & Bryant. Our St. Cloud personal injury lawyers will talk with you honestly about your case and will devise a comprehensive strategy for pursuing the compensation you deserve. Call 320-259-5414 or fill out our Contact Form to schedule a free consultation with an accident attorney.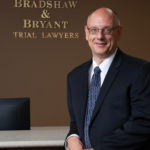 A founding partner with Bradshaw & Bryant, Mike Bryant has always fought to find justice for his clients—knowing that legal troubles, both personal injury and criminal, can be devastating for a family. Voted a Top 40 Personal Injury "Super Lawyer"  multiple years, Mr. Bryant has also been voted one of the Top 100 Minnesota  "Super Lawyers" four times.