Recently,  the Archdiocese of St. Paul and Minneapolis released the name of Gerald Funcheon, adding him to the list of credibly accused priests who have been in that Archdiocese.   So far no other list in Minnesota has included him.   Looking at his record, he was in St Cloud at Cathedral High School and St. John XXIII Middle Schools a chaplain.

Watch this video  about his offenses:
Kare 11 recently asked the questions of when did he start abusing children and how many?
In his own words:
"I suspect, and I don't remember, it would have been at it St. Odilia's," he testified in a 2012 deposition
His assignment to St. Odilia's was in 1970 to 1974!
As to how many:
In one of those cases, Twin Cities attorney Jeff Anderson was able ask Father Jerry – under oath in 2012 – how many kids he'd sexually abused.

"I would say a dozen," Funcheon testified at first. But attorney Anderson challenged him, suggesting there are more victims.

Anderson – "Do you think you might be underestimating that number?

Funcheon –"Wow – I couldn't count 'em up. I'll go – I don't know. I'll go to 18. I can't give you a number on this, okay?"

KARE 11 discovered the real number could be much higher.

Remember that internal memo from 1992? It says that "in a conversation with (his) bishop" at the time, Father Jerry indicated there may be around "50 victims".
That he was in St Cloud and working in and around children is troubling.   What more is in the files about him?
It is this type of list cross checking that brings up a lot more questions.  It also is an example of how the Child Victims Act has allowed the opportunity to use past discovery and new discovery to get to the truth.  How it has allowed these courageous survivors who were abused to finally find justice.
There are still many questions that need to be asked.
The names are now disclosed, however there are more lists that exist in Minnesota and there are many more names and information to find.
Abuse of children and the continued silence by the offenders needs to be prevented. If you suffered, saw, or suspected such events, it is important to know that there is help out there.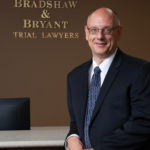 A founding partner with Bradshaw & Bryant, Mike Bryant has always fought to find justice for his clients—knowing that legal troubles, both personal injury and criminal, can be devastating for a family. Voted a Top 40 Personal Injury "Super Lawyer"  multiple years, Mr. Bryant has also been voted one of the Top 100 Minnesota  "Super Lawyers" four times.