Fear, embarrassment, even guilt. These are things that most survivors of sexual abuse feel at some point. The strength it takes to move on after this abuse is tangible, and yet so many will still not fight against it. Being abused by anyone is tragic, especially when it comes from someone you are supposed to be able to trust. It changes your perspective on how you see people, even those closest to you. Over the next month as we continue to talk about sexual abuse inside the Catholic Church one thing needs to be made clear; it is okay to get help. Taking that first step and admitting you are or have been harmed is the hardest part, but you may be surprised to learn that you are not alone, and there are so many people willing to help you find the relief and justice you deserve.
We have been presented with huge opportunities to finally bring these cases out in the open and put them to rest. In May of 2013 the Child Victims Act was announced, most recently the Catholic Church has been ordered to present a list of names of those priests who have been accused of sexual abuse, more and more people are standing up to the suffering they have endured.  The Catholic Church has been proven to hide incriminating evidence and move its priests to different parishes in the attempt to protect those who have been accused of abuse. Now is our chance to shine the light on what has happened and do what we can to put an end to it.
Abuse of children and the continued silence by the offenders needs to be prevented. If you suffered, saw, or suspected such events, it is important to know that there is help out there.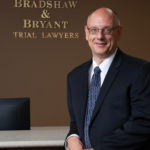 A founding partner with Bradshaw & Bryant, Mike Bryant has always fought to find justice for his clients—knowing that legal troubles, both personal injury and criminal, can be devastating for a family. Voted a Top 40 Personal Injury "Super Lawyer"  multiple years, Mr. Bryant has also been voted one of the Top 100 Minnesota  "Super Lawyers" four times.