Slipping and falling may not sound as catastrophic as getting struck by a motor vehicle or suffering an anesthesia error, but the truth is it can cause just as much damage. In fact, slips, trips, and falls account for more than 8 million emergency department visits annually.
Despite the fact that slip and falls are so common, most people don't know what to do in the aftermath. If you're unable to get up, brush yourself off, and continue on your way, for example, how do you determine who might be liable? And how can you hold them financially accountable for the resulting damages?
Unfortunately, since every slip and fall accident is different, there's no way to identify the liable party without first reviewing the facts of your case. For this reason, it is wise to seek guidance from a personal injury attorney right away to determine the best way to proceed.
It may be tempting to postpone calling a lawyer in the wake of the accident because you have so many other stressors vying for your attention, but there are several reasons to hire a premises liability attorney as soon as possible. Here are just a few of them:
To Meet All Critical Deadlines 
In the state of Minnesota, accident victims have a limited amount of time in which to file a formal lawsuit against those liable for their injuries. Typically, the statute of limitations for personal injury lawsuits is two years; however, there are exceptions that can shorten this deadline considerably.
For example, if you want to name a government entity in your suit, you must file the claim within 180 days of the incident. Hiring a lawyer as soon as your health stabilizes will ensure you do not miss any critical deadlines. 
To Gather Time-Sensitive Evidence 
Depending on the circumstances, some critical pieces of evidence may not be available indefinitely. For example, if the slip and fall was captured by surveillance cameras, the owner of the footage might eventually decide to alter or destroy it. Calling an attorney immediately will give your legal team the chance to gather evidence of fault while it is still available.   
To Account for All Damages 
Slip and fall victims start incurring damages from the moment they get hurt. If you fail to track all such damages, though, you will not be able to include them in the settlement negotiations. An experienced premises liability lawyer will consider all potentially recoverable damages when calculating a fair settlement.  
Discuss Your Case with a Premises Liability Lawyer in St. Cloud 
If you want to file a premises liability claim in Minnesota, contact Bradshaw & Bryant. Our legal team is committed to helping injured parties put their lives back together after getting hurt through no fault of their own. Call 320-259-5414 or fill out our Contact Form to schedule a free case evaluation with a personal injury lawyer in St. Cloud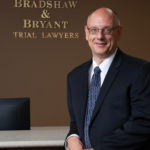 A founding partner with Bradshaw & Bryant, Mike Bryant has always fought to find justice for his clients—knowing that legal troubles, both personal injury and criminal, can be devastating for a family. Voted a Top 40 Personal Injury "Super Lawyer"  multiple years, Mr. Bryant has also been voted one of the Top 100 Minnesota  "Super Lawyers" four times.