There is probably a lot of XBoxes that will be sold this holiday season. It is important that they not be used as a way to get the kids out of the way or as substitute baby sitters. That ever parent keep an eye on what their children are doing. I came across a couple fo great reviews of the dangers of Xbox live that I thought were important to pass along:
CONVICTED SEX OFFENDER USES XBOX LIVE TO CONTACT CHILDREN: HOW XBOX PARENTAL CONTROLS CAN KEEP YOUR CHILD SAFE Written on December 7, 2011 by Patrick Noaker in Protecting Our Kids
Children in the Sex Trade and Xbox Live Parental Controls — Weekly Podcast for 12-5-11, Written on December 7, 2011 by Patrick Noaker in Protecting Our Kids
The games that they play also need to be reviewed. the National PTA provides the following recommendations:
Check the ratings. Use both ESRB rating symbols and content descriptors to select appropriate games for your children. Before you go shopping, visit ESRB for specific ratings information.
Consider your child's personality, maturity and abilities. Video game ratings provide guidance. Parents should decide which games are appropriate for their children.
Don't stop at the ratings. Speak to older children and other parents, rent before purchasing, read game reviews, and try out demos of games online or in stores where games are sold.
Look closely at the box the game comes in. Most video games have screen shots of the game on the back of the box showing typical scenes from the game. Determine if you are comfortable with the characters, scene depiction, and level of action portrayed before you buy or rent the game. Additional screen shots are available online at game preview websites, such as Game Revolution, GameSpot, or GameSpy.
Know the store's return policy. Many stores will not accept video game returns if the cellophane wrapping has been opened. Check with the store before you make your purchase. Many major retailers (link opens in PDF) will, however, allow parents to return or exchange games sold to their children in violation of store enforcement policies regarding the sale of Mature-rated video games.
Play video games with your children. Playing or observing helps you understand your child's video game experience, while providing a fun parent/child activity. Talk to your child and ask him or her about the game, what makes it fun for them, what is the story-line, is the game real or make-believe?
Use parental controls. Newer video game systems allow parents to restrict specific game content by rating. Check with the manufacturer of your video game system for more information, or ask a video game retail sales associate about the availability of parental controls.
Be cautious with "online-enabled" games. Many popular games can be played with friends (and strangers) over the Internet. Often, these games contain live chat or other user-generated content that is not rated by the ESRB and may not be consistent with the rating assigned to the game.
Be aware of "mods" that can change a game. Downloadable programs ("mods") can alter game content and the game's age-appropriateness. Some mods can contain viruses or spy-ware, making them dangerous predators to your family computer.
Set household media use rules. Establish rules for your children and encourage open communication about their media use so they recognize what you feel is inappropriate content.
Christmas brings a lot of great things. But as parents, we have got to make sure that we continue to follow up after the presents are given out.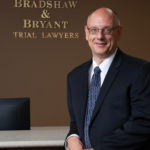 A founding partner with Bradshaw & Bryant, Mike Bryant has always fought to find justice for his clients—knowing that legal troubles, both personal injury and criminal, can be devastating for a family. Voted a Top 40 Personal Injury "Super Lawyer"  multiple years, Mr. Bryant has also been voted one of the Top 100 Minnesota  "Super Lawyers" four times.