I ran across another update from Jeff Anderson that should be of great concern for anyone looking for justice for sexual abuse victims. Basically, in October a Ramsey County District Judge dismissed a case against the Catholic Church leaders, finding that what happened was beyond statute of limitations.
The court didn't find that the assault never happened, nor did they find that former priest Thomas Adamson isn't a pedophile that the church hid or moved around with knowledge of his abuses. There have been 20 people who claim Adamson abused them when they were children at church parishes in both the Winona diocese and Twin Cities archdiocese. Many of the cases have already been settled out of court.
In 1990, a jury awarded one of Adamson's victims $3.5 million, which was later reduced to $1 million. Defendants included the archdiocese and the Winona Diocese.
The court simply found that enough time had passed that the victim no longer had a remedy. The Church leaders responded by asking for $64,000 in costs. How is that for re-victimizing?
Survivors Network of those Abused by Priests (SNAP) explained:
(that the defendant is) trying to punish this victim for trying to discover and disclose the identities of other local predator priests. And they believe Neinstedt is trying to intimidate other victims from coming forward. The group is appalled that Neinstedt is using such "scorched –earth legal tactics" against an alleged victim of a "proved predator" about whom church officials had repeatedly, for years, been warned.

The organization also believes it's immoral for a bishop to "exploit legal technicalities" and says that (Minneapolis-St. Paul Archbishop) Neinstedt should "fight on the merits" if he believes Adamson did not, in fact, sexually assault this boy.

According to BishopAccountability.org (where a photo of Adamson can be found), "Experts say he may have abused as many as 100 boys." In 1990, in Minnesota's first pedophile priest trial, a jury awarded one of Adamson's victims $3.5 million (later reduced to $1 million). Defendants included the archdiocese and the Winona diocese.
The victim is now appealing that decision.
It's time that the Minnesota Legislature looked at the statute of limitations and understands that these crimes need answers. It also is time that the Church leaders truly show us what zero tolerance means and quits re-victimizing these poor souls.
If you suffered, saw, or suspected such events, it is important to know that there is help out there.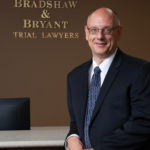 A founding partner with Bradshaw & Bryant, Mike Bryant has always fought to find justice for his clients—knowing that legal troubles, both personal injury and criminal, can be devastating for a family. Voted a Top 40 Personal Injury "Super Lawyer"  multiple years, Mr. Bryant has also been voted one of the Top 100 Minnesota  "Super Lawyers" four times.