The Minnesota Child Victims Act is now a year old and has two more years to go. (update) Due to the Archdiocese of St. Paul and Minneapolis Bankruptcy  the deadline there is now Aug. 3, 2015
The Minneapolis Tribune took time for the anniversary to look at how it is going. The story was interesting for its overview, but there are areas that are worth looking at a little closer.
The headlines of the story were interesting. In the paper the headline was: Abuse Law Unleashes Firestorm On Church and in the internet version it was: Minnesota Child Victim's Act Generates Nearly 40 Lawsuits, Church Reforms. The law didn't start things. The abuse that has been hidden for years is what created the firestorm. The hiding is what caused the need for the law.
The numbers are interesting. There have already been over 40 lawsuits against 30 different priests. In comparison, the story points out the other states which have had open window laws:
California witnessed more than 1,100 lawsuits during its one-year window, Hamilton said. About 170 lawsuits were filed in Delaware and about 75 in Hawaii during their two-year windows.
It may be a little early to really compare the numbers. It also should really look at the number of disclosed pedophiles who were credibly accused. Minnesota has over 100 disclosed already.
The suits have allowed for court involvement and increased disclosure. There have been lists disclosed by 5 of the 6 diocese. There have been individual files ( that were heavily redacted) disclosed by the Archdiocese of Minneapolis and St Paul, and there have been depositions taken.  In every disclosure, there have been ways to compare information and to get closer to what really happened.
The law has allowed for survivors to finally come forward. There have been those who have used their name and others who have used the Doe identification to finally come out of the dark. To finally be heard and to face those who hid and transferred these pedophiles out of tragic situations.
It will be interesting to look back when the cases are all done and to see if even the old law would have provided for these cases. An argument has always existed that fraud stayed the statute of limitation. That while the church has made self-serving statements such as:
The archdiocese, which opposed opening the statute of limitations, still believes time limits "are an important part of ensuring that the civil justice system remains fair to all parties," Bishop Andrew H. Cozzens said in a written statement.
"We accept and embrace responsibility when we have made mistakes, and will continue to work with courts, victims and attorneys to pursue justice for all parties during this three-year period," Cozzens said.
Many of the 40,000 documents that have been disclosed suggest otherwise. That it wasn't a fair system where the church decided what to disclose and when to act. That there were active plans to hide and transfer. That they had no interest in doing anything but protecting the church.
There have been criminal claims looked at and now being pursued. Just last week Dakota County bought charges against Francis Hoefgen, a former St. John's Abbey monk now living in Columbia Heights, for allegedly abusing a boy from 1989 to 1992. His arrest followed the victim's lawsuit filed last year.
There have also been claims made against schools and organizations that do not involve the Catholic  church. Individuals who were abused have had the chance to ask if something could be done as they have had to survive attacks from family, friends, neighbors, coaches, or teachers.
Survivors have finally gotten a chance to see justice.  Bill author Representative Steve Simon calls the past year "an occasion to reflect on what went wrong" and to learn from it."It's a painfully teachable moment," the representative said. "And it's about healing for a lot of people who for a long time were ignored or dismissed or worse. They are finally getting their justice."
Abuse of children and the continued silence by the offenders needs to be prevented. If you suffered, saw, or suspected such events, it is important to know that there is help out there.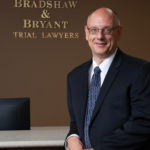 A founding partner with Bradshaw & Bryant, Mike Bryant has always fought to find justice for his clients—knowing that legal troubles, both personal injury and criminal, can be devastating for a family. Voted a Top 40 Personal Injury "Super Lawyer"  multiple years, Mr. Bryant has also been voted one of the Top 100 Minnesota  "Super Lawyers" four times.