I ran across a couple of stories that were in the Minneapolis Tribune recently that explain a lot of what is seen regularly in sex abuse cases across the world. Each provides a message in its own way:
– The middle of November, a St Paul jury convicted Rev. Christopher Wenthe of third-degree criminal sexual conduct. He was convicted for taking advantage of a priest-penitent relationship to have sex with a 21 year-old woman. The Priest claimed that the sex was consensual and outside of his being a priest.
The item of great concern was the woman's claim that when she reported what happened she was told:
the archdiocese appointed Wenthe as a pastor in Delano, and Archbishop John Nienstedt wrote a letter to her saying that she should trust the shepherds of the church.
It is this message that so many victims have heard. The priests have been moved around and they are told to trust the Church. They are often told that it will be dealt with and instead the perpetrators are treated as the ones in the right.
Look at what happened here: You either had the crime which the jury found, or if there was no crime, then the Church should be looking at the actions outside the vow of celibacy. Looks like something the Church should be dealing with in a manner outside a move to another church and a "don't worry about it" to the person involved.
– This past Sunday, there was story about criminal charges in Crow Wing County for Thomas Erickson, a man who has been bringing boys up to his rural Nisswa cabin for years. The claim is that he sexually abused those boys from 1960 to the early 2000's. The story reported that one of the victims came forward because:
the Sandusky scandal (Penn State) prompted him to call the Brainerd newspaper about Erickson, only to learn that others had come forward and charges had been filed.
This is what happens as victims become empowered when they see others come forward and are believed. When they see that people of power can be stood up to. Of interest is that Erickson is reported to have told the police that he was a Boy Scout leader and a Church youth leaders. Both of the Nisswa organizations deny this type of involvement.
It will be important as this story continues that others who knew, suspected, or suffered come forward and provide more proof of what took place.
Abuse of children and the continued silence by the offenders needs to be prevented. If you suffered, saw, or suspected such events, it is important to know that there is help out there.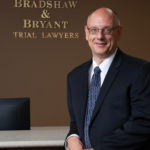 A founding partner with Bradshaw & Bryant, Mike Bryant has always fought to find justice for his clients—knowing that legal troubles, both personal injury and criminal, can be devastating for a family. Voted a Top 40 Personal Injury "Super Lawyer"  multiple years, Mr. Bryant has also been voted one of the Top 100 Minnesota  "Super Lawyers" four times.