I had an excellent opportunity to be at the press conference for the announcement of the first lawsuit to be brought under the Child Victims Act. The law provides for the opening of the window for any survivor who has ever been sexually abused as a child in Minnesota. For the next three years, they can bring their claim and find justice.
The statements that rang true to me as I listened to the announcement from Jeff Anderson of Jeff Anderson & Associates was the need for " Disclosure, Exposure, and for the survivors to get Closure"
Disclosure: There needs to be a disclosure of every credibly accused pedophile Priest. If the church has determined that they have enough allegations or enough evidence to put a Priest's name on their hidden list of abusing Priests, that list should be disclosed. I wrote about this in the past:
The Catholic Church Should Demand the Disclosure of List of Credibly Accused Pedophiles; Mike Bryant | August 13, 2012 9:35 AM
It has happened in other areas of the country:
The Catholic Church and Disclosure, Mike Bryant | February 13, 2013 9:35 AM
It is time that it happened in Minnesota.
Exposure: Everything has happened and all of the abusers need to be brought to justice. Those who have been silenced for too long need to have their voices heard. The many survivors who have suffered in silence for years deserve their time of understanding. For those who have been told it is simply too late to do anything, the time bar has been corrected.
The evidence of years of transfers, hiding, and suppression of the truth needs to be brought out into he open so all of those who participated can be exposed for what they have done.
Closure: For far too long, these survivors have had the end and silence forced upon them. This law allows them to take control and to write a different story and ending to the abuse and horror that they went through. To deal with the ongoing issues and finally find a true ending for those who did the abuse.
This new law allows for hope.
The Church can prove they believe in zero tolerance by participating in this hope and coming forward with every list that they have. Stop the protection and the hiding.
They needed to use the zero tolerance doctrine to shine light on what happened and to ensure that it would never happen again. They need to not move priests around and to quit putting them in situations which allow great access to kids. They needed to stop hiding.
Abuse of children and the continued silence by the offenders needs to be prevented. If you suffered, saw, or suspected such events, it is important to know that there is help out there.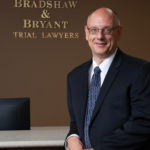 A founding partner with Bradshaw & Bryant, Mike Bryant has always fought to find justice for his clients—knowing that legal troubles, both personal injury and criminal, can be devastating for a family. Voted a Top 40 Personal Injury "Super Lawyer"  multiple years, Mr. Bryant has also been voted one of the Top 100 Minnesota  "Super Lawyers" four times.