Last Month, St. Cloud Bishop Donald Kettler and St. John's Abbot John Klassen went in front of the St Cloud Times Editorial board to talk about clergy abuse allegations.  It is worth the time to watch all of it.   I will from  time to time look at it and may write more about what they said.   One thing that caught my eye right off the bat  was a discussion at around the 13:40 mark concerning the credibly accused  Monks who are still living at St Johns Abby.  It was described that they don't use the term "supervised"  and they were the lowest level to offend.
They are "Situational offenders"   (15:38), not preferential offenders.  So the theory was present that if they are isolated from offending situations, then there are strong assurances that  they are safe.  That statements seemed strange, so I did some research.  Of interest I found this on St John's  University website:
1. Situational child molesters

a. Don't have a true sexual interest in children

b. Will experiment with children when stress is introduced into life

i. Seen as victim of circumstance

c. Has the fewest number of victims

d. Will not limit victims to just children but will also prey upon the elderly, sick, or mentally impaired
So I read it again and looked at the tape again.  Doesn't this suggest that they are even more dangerous to more types out in the public?  Doesn't this fly  completely against the idea that they are safe to just go where they want in the community?  If you accept the title that is being used, the rest of the definition needs to be accepted.
Abuse of children and the continued silence by the offenders needs to be prevented. If you suffered, saw, or suspected such events, it is important to know that there is help out there.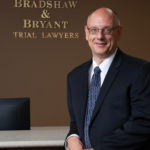 A founding partner with Bradshaw & Bryant, Mike Bryant has always fought to find justice for his clients—knowing that legal troubles, both personal injury and criminal, can be devastating for a family. Voted a Top 40 Personal Injury "Super Lawyer"  multiple years, Mr. Bryant has also been voted one of the Top 100 Minnesota  "Super Lawyers" four times.