If you slip and fall on a commercial property because the owner or occupant failed to maintain the premises, you have the right to sue for damages. To build a successful claim, though, there are certain steps you must take immediately after the incident and in the days and weeks that follow. These steps include:
Reporting the accident;
Photographing the scene;
Taking note of any eyewitnesses;
Seeking medical care;
Declining to discuss the case with anyone except your lawyer; and
Calling a slip and fall attorney.
Reporting the Accident 
Slips and falls account for more than 1 million emergency department visits annually. Since they are so common, every reputable brick-and-mortar business should already have a procedure in place for filing an incident report. Explain what happened to someone in a position of authority, whether it is the landlord, property manager, business owner, or supervisor on duty, and ask for a copy of the written report before leaving the scene. 
Photographing the Scene 
It is essential to photograph the area where you fell immediately following the accident. If you leave without documenting the scene, the negligent party could alter the area in some way so they can dispute liability later, during the claims process. 
Taking Note of Any Eyewitnesses 
Get the names and phone numbers of any eyewitnesses. Your slip and fall attorney will need this information to obtain their testimony when building the claim. Look for surveillance cameras in the vicinity, as well, and ask someone in charge how long they save the footage. 
Seeking Medical Care 
Some fall injuries do not manifest immediate symptoms, which means even if you feel fine, you could be suffering from a concussion or some other kind of trauma that has latent symptoms. For your own health and safety, it is critical to seek treatment as soon as possible. 
Declining to Discuss the Case 
The property owner's insurance adjuster may reach out within a few days of the incident. Do not provide a recorded statement regarding the extent of your injuries, even if you have already received a diagnosis. You should also avoid discussing the case in general until you have spoken to an attorney. 
Calling a Slip and Fall Attorney 
Upon hiring a lawyer, your case will be in good hands so you can focus on recovering. A seasoned attorney will handle all the logistics of the claim while protecting your best interests every step of the way. 
Discuss Your Case with a Slip and Fall Lawyer in St. Cloud Today! 
If you were hurt in a slip and fall accident and have completed the first five steps listed above, turn to Bradshaw & Bryant. Our St. Cloud personal injury attorneys will help you gather evidence of both liability and damages so you can prove fault and then fight for enough compensation for all the costs you have incurred. Call 320-259-5414 or fill out our Contact Form to schedule a free case evaluation with a strategic injury lawyer on our team.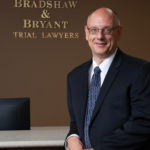 A founding partner with Bradshaw & Bryant, Mike Bryant has always fought to find justice for his clients—knowing that legal troubles, both personal injury and criminal, can be devastating for a family. Voted a Top 40 Personal Injury "Super Lawyer"  multiple years, Mr. Bryant has also been voted one of the Top 100 Minnesota  "Super Lawyers" four times.