This year has been a good one. We thank everyone, who took the time to read any of our posts. It was especially gratifying to have so many people weight in with comments. Here s a list of our most viewed posts in 2012.
The Amy Sensor Hit and Run Case Has a Number of Interesting Parts, Mike Bryant | October 17, 2011 9:35 AM
Can you get a ticket for exceeding the speed limit when passing a vehicle on a two lane road?,Nicole Bettendorf | July 27, 2009 5:03 PM
Graphic Look At The Dangers Of Texting And Driving,Mike Bryant | March 16, 2010 9:25 AM
Meningitis Outbreak Lawsuit and More Questions About New England Compounding Center (update),Mike Bryant | October 14, 2012 2:58 PM
Pink Slime? Was That the Reason They Wanted Immunity? Update,Mike Bryant | April 06, 2012 9:38 AM
Toy Safety: The 2009 10 Dangerous Toys Of Christmas,Mike Bryant | December 20, 2009 10:30 PM
How Important is Your Windshield?,Mike Bryant | July 08, 2012 9:29 AM
Sunland Inc.'s New Mexico Peanut Butter Plant Shut Down By FDA (update),Mike Bryant | November 28, 2012 9:49 AM
Does my Teenager Need a Booster Seat??,Joe Crumley | July 28, 2009 3:03 PM
Bishop Finn : Church Leaders Being Church Leaders?,Mike Bryant | October 04, 2012 9:25 AM
————————————————————————–
Here is the top ten from our Minneapolis blog.
Here is Brett Emison list from the Missouri blog.
We hope to build off this year and post even better in 2013.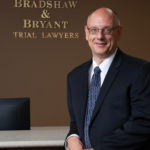 A founding partner with Bradshaw & Bryant, Mike Bryant has always fought to find justice for his clients—knowing that legal troubles, both personal injury and criminal, can be devastating for a family. Voted a Top 40 Personal Injury "Super Lawyer"  multiple years, Mr. Bryant has also been voted one of the Top 100 Minnesota  "Super Lawyers" four times.