This year has been a busy one. We thank everyone, who took the time to read any of our posts. It was especially gratifying to have so many people weight in with comments. Here s a list of our most viewed posts in 2011.
Is Online Poker Over?, Mike Bryant | April 22, 2011 9:18 AM
Minnesota State Shut Down: What Does it Mean for the Courts?, Mike Bryant | June 28, 2011 11:02 PM
Tylenol Recall Expands To Include Motrin, Benadryl, St. Joseph Aspirin, and Rolaids, Mike Bryant | January 17, 2010 9:50 AM
Does my Teenager Need a Booster Seat?? Joe Crumley | July 28, 2009 3:03 PM
Toy Safety: The 2009 10 Dangerous Toys Of Christmas, Mike Bryant | December 20, 2009 10:30 PM
Can you get a ticket for exceeding the speed limit when passing a vehicle on a two lane road?, Nicole Bettendorf | July 27, 2009 5:03 PM
The Importance of National Police Week, Mike Bryant | May 16, 2011 9:28 AM
Catholic Church Leaders Continue to Require Doubt, Mike Bryant | March 21, 2011 9:04 AM
Herman Cain: Candidates and Their Backgrounds, Mike Bryant | November 26, 2011 9:27 AM
Sports Concussions and Madden's 12, Mike Bryant | April 03, 2011 7:20 PM
————————————————————————–
Here is the top ten from our Minneapolis blog.
Brett Emison posted their top ten list, a lot of good stuff.
We hope to build off this year and post even more in 2012.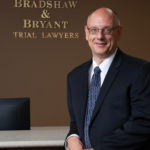 A founding partner with Bradshaw & Bryant, Mike Bryant has always fought to find justice for his clients—knowing that legal troubles, both personal injury and criminal, can be devastating for a family. Voted a Top 40 Personal Injury "Super Lawyer"  multiple years, Mr. Bryant has also been voted one of the Top 100 Minnesota  "Super Lawyers" four times.