Huffing, or what's sometimes called "dusting," refers to inhaling compressed gas that contains 1,1-difluoroethane (DFE). DFE is a refrigerant-based propellant that's used to force products like shaving cream, spray paint, and whipped cream out of the can. When inhaled, it can produce a temporary, narcotic-like high.
Because DFE is the active—and sometimes only—ingredient in compressed gas dusting spray, compressed gas abuse has become a serious problem. Unlike many other substances that can produce a sought-after high, compressed gas that contains DFE is both cheap and accessible.
Because of its impact on the body—after a brief sense of euphoria, those who inhale compressed gas can experience poor coordination, dizziness, loss of consciousness, and even death—driving under the influence of DFE is incredibly dangerous. At the moment, though, the sale of compressed gas is not regulated in any way.
Thankfully, that doesn't negate the fact that both manufacturers and retailers owe a duty of care to the general public to mitigate huffing-related accidents. Some manufacturers started adding a bitterant to their products to deter abuse, but it hasn't seemed to curtail the problem.
Retailers may also play a role in the widespread abuse of compressed gas. Despite knowing about the risks these products pose, there have been cases of retailers continuing to sell high volumes of gas dusting spray to the same customers.
If you were struck by a motorist who was under the influence of DFE, you might have grounds for a claim against multiple defendants. In addition to taking action against the driver in question, you may be able to bring a claim against the manufacturer who produced the compressed gas and/or the retailer who sold it.
In order to build a strong claim against the motorist, you will have to prove that he or she was, indeed, driving under the influence and liable for the crash. Evidence that will contribute to your case might include:
• Eyewitness deposition;
• Social media posts about huffing that the driver or his or her friends published prior to the wreck;
• Confessions obtained by police at the scene or shortly thereafter;
• Receipts recording the purchase of compressed gas; and
• Photographs of any compressed gas containers found inside the vehicle.
You may have grounds for a claim against the manufacturer if the product's warning labels were insufficient. The retailer may be liable if you can prove that they knew—or should have known—that the customer was purchasing the product to get high.
Call 320-259-5414 to Discuss Your Case with a St. Cloud Car Accident Attorney
If you were struck by a motorist who had been abusing compressed gas, contact Bradshaw & Bryant to determine the most strategic way to proceed. From the moment you call our office to the day your case is resolved, you will be treated with the utmost professionalism and compassion. Call 320-259-5414 or fill out our Contact Form to schedule a free consultation with a car accident lawyer in St. Cloud.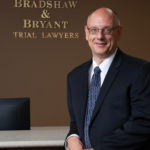 A founding partner with Bradshaw & Bryant, Mike Bryant has always fought to find justice for his clients—knowing that legal troubles, both personal injury and criminal, can be devastating for a family. Voted a Top 40 Personal Injury "Super Lawyer"  multiple years, Mr. Bryant has also been voted one of the Top 100 Minnesota  "Super Lawyers" four times.