When a large truck collides with a passenger car, the occupants of the smaller vehicle tend to suffer the worst of the impact. Sedans, pickups, and even SUVs are no match for loaded tractor-trailers, which can weigh up to 80,000 pounds.
If a member of your family survived such an accident, there's a good chance he or she was seriously hurt. Unfortunately, watching loved ones in pain can cause immense depression for the entire family.
While you cannot undo what has happened, there are ways to facilitate your family member's physical and emotional recovery. Here are a few of the most effective strategies for helping loved ones cope in the aftermath of a large truck crash:
1. Take Care of the Household
Even relatively minor injuries can make it hard to complete simple tasks like cooking and cleaning. By taking on these and other domestic duties, you can relieve a considerable amount of stress for the whole household. If you don't live in the area, arrange for meal preparation and housekeeping services to stop by a few times each week.
Just be sure to remind your loved one to keep the invoices for all such expenses. Should he or she have grounds for a truck accident claim, these expenses might be recoverable.
2. Provide Emotional Support
Regardless of how far you live from the accident victim, you can always provide emotional support. Most people who suffer major injuries have good days and bad days. Knowing they have someone to call on the bad days can make their low points far more manageable.
It's okay if you don't know what to say when your loved one calls. Oftentimes, just lending an empathetic ear can have a positive impact.
3. Arrange for Counseling
It's not uncommon for accident victims to neglect their mental health when their physical health has been compromised. Once your loved one's condition stabilizes, though, recommend that he or she sees a therapist.
If your relative is less than enthusiastic, try to eliminate the hurdles preventing him or her from talking to a counselor. For example, finding a practice that accepts the right insurance can be a daunting task. If possible, do a little research of your own to find a local provider, and then offer to drive your loved one to and from the appointment.
Even if he or she agrees to attend just a single session, that may be enough to learn a few coping strategies for combatting the depression, loneliness, and stress that come with surviving a traumatic event.
Discuss Your Claim with a Truck Accident Attorney in St. Cloud
If you or someone in your family was involved in a truck accident, contact Bradshaw & Bryant. Our compassionate attorneys will provide the personal attention, straightforward answers, and customized legal solutions you deserve. Call 320-259-5414 or fill out our Contact Form to schedule a free case evaluation with a truck accident lawyer in St. Cloud.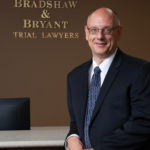 A founding partner with Bradshaw & Bryant, Mike Bryant has always fought to find justice for his clients—knowing that legal troubles, both personal injury and criminal, can be devastating for a family. Voted a Top 40 Personal Injury "Super Lawyer"  multiple years, Mr. Bryant has also been voted one of the Top 100 Minnesota  "Super Lawyers" four times.