If you have grounds for a personal injury claim, a seasoned attorney can handle all the logistics of your case. From tracking damages to corresponding with the opposing party to negotiating for a settlement, your legal team will take care of everything so you can focus on your medical recovery.
That doesn't mean, however, that you can't contribute to the strength of your claim. From day one, there are steps you can take to give your case the best chance of success. Such steps include:
1. Preserving Critical Evidence
If you recorded the scene of the accident, give all the evidence you obtained to your legal team. Examples include photographs of the hazard that caused you injury, pictures of the scene, statements from eyewitnesses, and the incident report. You should also save all correspondence from the opposing party and all documentation of the damages you incur.
2. Staying off Social Media
The claims adjuster might try to monitor your online presence in an attempt to gather evidence to be used against your claim. As such, it's advisable to deactivate your social media accounts until your case has been resolved.
If you cannot do so for personal or professional reasons, make sure to:
• Adjust your privacy settings so only approved connections can view your posts;
• Avoid accepting requests from people whom you don't recognize;
• Avoid posting about the accident, your injuries, the case, your social life, or major expenditures; and
• Ask friends and loved ones to avoid tagging you in anything they post.
3. Following Your Doctor's Orders
Personal injury claimants must take reasonable measures to mitigate the damages they incur. This includes seeking prompt medical care and then following your doctor's orders diligently once you do.
If you fail to mitigate damages, it could reduce the total compensation to which you are entitled. Minnesota has a modified comparative fault rule, which reduces the defendant's liability in proportion to the plaintiff's own liability. What's more, plaintiffs who are deemed more liable than defendants are barred from recovering.
4. Referring All Correspondence to Your Legal Team
Some claims adjusters are not above using manipulative tactics to deny or at least devalue the cases they review. If you correspond with them directly, they may try to get you to admit fault, accept a premature settlement, or otherwise jeopardize the strength of your case. Fortunately, an experienced personal injury attorney will be familiar with all such tactics and will not let the opposing party take advantage of you.
Discuss Your Claim with a Personal Injury Lawyer in St. Cloud
If you were seriously hurt through no fault of your own, turn to Bradshaw & Bryant to determine the most strategic way to proceed. For six consecutive years, attorney Michael Bryant has been recognized as a SuperLawyer and has been named among Minnesota's Top 40 Personal Injury Lawyers by Minnesota Law & Politics. Call 320-259-5414 or fill out our Contact Form to schedule a free consultation with a personal injury attorney in St. Cloud.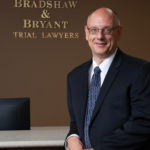 A founding partner with Bradshaw & Bryant, Mike Bryant has always fought to find justice for his clients—knowing that legal troubles, both personal injury and criminal, can be devastating for a family. Voted a Top 40 Personal Injury "Super Lawyer"  multiple years, Mr. Bryant has also been voted one of the Top 100 Minnesota  "Super Lawyers" four times.