Calculating the value of a car accident claim is rarely straightforward when serious injuries are involved. This is especially true if you intend to pursue non-economic damages like pain and suffering or future damages such as anticipated healthcare costs and loss of earning capacity.
To approximate a fair settlement amount, your attorney may have to work with medical, financial, and vocational experts. If the opposing party disputes the calculations, it may be necessary to file a lawsuit and enter litigation, during which your lawyer might depose various experts to support the damages calculations.
There are many factors outside of the damages you are pursuing that could complicate matters. For instance, the defense might say that you were partially liable for the crash or that you have failed to mitigate your damages and you therefore shouldn't be compensated for 100 percent of your losses.
Read on for a closer look at some of the factors that could affect the potential value of your car accident claim:
• The Role You Played in the Crash: Minnesota has a modified comparative fault law, which means personal injury settlements and verdicts are reduced by the plaintiff's own percentage of fault. If you are deemed more at fault than the defendant, you will be barred from recovering anything at all.
• The Liable Party's Actions Prior to the Accident: If the defendant acted with deliberate disregard for your rights, safety, or health, you may be entitled to a punitive award in addition to compensatory damages. While punitive damages are rarely awarded in car accident claims, there are a few scenarios in which they are warranted such as after collisions involving a drunk driver or a hit and run.
• The Severity of Your Injuries: Because serious injuries tend to be more expensive to treat, the settlements in these cases tend to be more substantial. If you suffered brain trauma or spinal cord damage, for example, you may need a lifetime of medication and domestic help. Severe injuries may also result in considerable pain and suffering, mental anguish, and loss of enjoyment in life.
• The Strength of the Evidence: You will need strong evidence to support the settlement calculations and to prove that you did not contribute to the accident. If you intend to bring a third-party claim against the at-fault driver's liability insurance policy, you will also have to prove that your case meets the serious injury threshold; otherwise, you may only be able to bring a claim against your own no-fault coverage.
Call 320-259-5414 to Speak with a Car Accident Attorney in St. Cloud
At Bradshaw & Bryant, we understand the physical, emotional, and financial stress that a car accident can place on you and your loved ones. We will use all the resources at our disposal to help you pursue the compensation you deserve. Call 320-259-5414 or fill out our Contact Form to schedule a free case evaluation with a car accident lawyer in St. Cloud.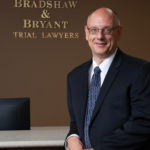 A founding partner with Bradshaw & Bryant, Mike Bryant has always fought to find justice for his clients—knowing that legal troubles, both personal injury and criminal, can be devastating for a family. Voted a Top 40 Personal Injury "Super Lawyer"  multiple years, Mr. Bryant has also been voted one of the Top 100 Minnesota  "Super Lawyers" four times.