While every dog bite claim is unique, those that end up yielding compensation for the victim all have one thing in common: sufficient evidence. If you were attacked by a dog, you're going to have to prove both liability and damages in order to recover a payout for the associated losses.
Naturally, the circumstances surrounding the incident will determine what kinds of proof you'll need to build a strong case. Conducting a thorough investigation, however, and gathering all available evidence may not be enough to win your claim. Chances are your legal team will want to bolster your case further with testimony from various experts.
Let's take a look at the types of experts who most often contribute to dog bite claims:
1. Animal Control Officers
Animal control officers can speak on local laws, like leash ordinances, that could influence the outcome of your claim. Since Minnesota has a strict liability rule for dog bites, you don't necessarily have to prove negligence on the part of the owner or handler in order to win your case; however, if they were being careless at the time of the attack, it will only strengthen your claim.
2. Canine Behavioral Specialists
A canine behavioral specialist can review the circumstances of the attack and explain why the dog was aggressive despite the fact that you were "acting peaceably" at the time. Such testimony could end up being especially valuable if the owner or handle claims you provoked the animal. Without evidence to the contrary, such an assertion could keep you from recovering a single dollar.
3. Medical Doctors
Both the physicians who actually treated you and those who specialize in the kinds of injuries you sustained can speak on the extent of the care you need, as well as any scarring, disfigurement, or permanent disabilities you can expect to experience in the years to come.
4. Psychologists
An animal attack can have lasting ramifications on the victim's health. If you're struggling psychologically in the wake of the incident, you may be entitled to compensation for non-economic damages like emotional distress and mental anguish. To demonstrate the severity of these damages, your legal team may consult seasoned psychologists.
5. Vocational Experts
If the injuries you sustained will keep you from resuming your normal job duties or returning to work at all, you're going to want to present testimony stating as much from a relevant vocational expert.
6. Economists
A knowledgeable economist can help you estimate a reasonable figure for your monetary losses. Examples include medical bills and missed wages. With their testimony, you'll be able to present a starting point for the negotiations.
Discuss Your Case with a Dog Bite Attorney in St. Cloud
If you were bitten by someone else's dog, turn to Bradshaw & Bryant for strategic legal guidance. Our tireless team will assert your rights at every stage of the proceedings, so you can pursue the compensation you deserve. Call 320-259-5414 or use our Online Contact Form to set up a free consultation with a dog bite lawyer in St. Cloud.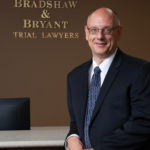 A founding partner with Bradshaw & Bryant, Mike Bryant has always fought to find justice for his clients—knowing that legal troubles, both personal injury and criminal, can be devastating for a family. Voted a Top 40 Personal Injury "Super Lawyer"  multiple years, Mr. Bryant has also been voted one of the Top 100 Minnesota  "Super Lawyers" four times.