Spend a few minutes browsing through recent recalls, and you'll realize just how many defective products hit the consumer market every year. From water heaters and gas fireplaces to vitamins and pajamas, thousands of different goods have been recalled due to dangerous defects.
Still, most Americans have never had to file a product liability claim, so you may not know what to do if you get hurt while using a defective product. Recovering compensation for medical bills and other damages from a large corporation can be challenging, so it's important that you take legal action right away. A smart first step is to consult a product liability attorney.
During this meeting, you will be asked about the circumstances of your injury so the lawyer can determine if you have grounds for a claim and how best to proceed. To ensure your case gets off to a strong start, try to bring the following to your initial consultation:
The Item in Question: If possible, bring the defective item to the meeting. If it's too large or you no longer have it, bring along any packaging materials or instruction manuals, as well as photographs of the actual item.
Proof of Purchase: Your attorney will want to review any receipts, records, or invoices detailing your purchase of the product.
Medical Records: If you've been receiving care for the injuries you sustained, bring along a copy of your medical records including diagnostic images and statements from healthcare providers regarding your prognosis.
Your Own Notes About the Incident: Your legal team will perform a thorough investigation, but if you've done any research of your own, bring it to the initial meeting.
Correspondence with the Opposing Party: If you've had any correspondence with the manufacturer or retailer, print it and bring it to your initial consultation. This includes correspondence that occurred prior to the accident. If the product was recalled, for example, and you received a notice from the retailer about the recall, your personal injury lawyer will want to review it.
Your Personal Injury Journal: If you haven't been tracking your recovery, start a journal immediately, and write daily entries about the ways in which the injuries are affecting your everyday life. Your attorney may use these entries to prove non-economic damages like pain and suffering. 
Discuss Your Case with a Product Liability Lawyer in St. Cloud
If you want to file a product liability claim in Minnesota, contact Bradshaw & Bryant. We will conduct a thorough investigation into the defect and help you pursue the maximum payout possible.
For six consecutive years, attorney Michael Bryant has been recognized as a Super Lawyer and named among Minnesota's Top 40 Personal Injury Lawyers by Minnesota Law & Politics. Call 320-259-5414 or fill out our Contact Form to schedule a free case evaluation with a personal injury attorney in St. Cloud.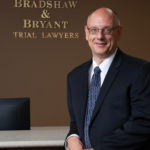 A founding partner with Bradshaw & Bryant, Mike Bryant has always fought to find justice for his clients—knowing that legal troubles, both personal injury and criminal, can be devastating for a family. Voted a Top 40 Personal Injury "Super Lawyer"  multiple years, Mr. Bryant has also been voted one of the Top 100 Minnesota  "Super Lawyers" four times.