If you're planning on filing a truck accident claim, it's imperative to turn to the right lawyer for guidance. Chances are you've never needed a truck accident attorney, though, so you're not quite sure what to look for in one.
Thankfully, most reputable firms offer free consultations. That means you can meet with the lawyer you're considering in person before actually hiring them.
To make the most of your initial consultation and determine whether you've found the best person for the job, ask the following questions during the appointment:
1. How Much of Your Casework Involves Truck Accidents?
Just because an attorney practices personal injury law doesn't mean they're adept at resolving truck accident claims. Personal injury is an incredibly broad practice area, encompassing everything from premises liability to medical malpractice. As such, you should confirm that the lawyer you're thinking of hiring actually has experience building cases around large truck crashes.
2. How Often Will You Update Me on the Status of My Claim?
A seasoned attorney with an adequate support team should be able to handle virtually every aspect of your claim. That doesn't mean, however, that you shouldn't be kept in the know. While you ought to focus on your recovery, you should still be informed of every development in your case.
During your first meeting, inquire about the lawyer's accessibility. How often will they give you status updates, and how long will it take them to get back to you if you reach out with a question or concern? Ideally, your attorney will give you a direct means of contact, or at least promise to respond to all inquiries within a day or two if you call their secretary.
3. What Do You Think Is the Most Likely Outcome of My Claim?
Lawyers who practice with honesty and integrity don't make promises they can't keep. Look for someone who is willing to discuss all possible outcomes of your case openly.
They might share their professional opinion regarding the most likely settlement or verdict, but they won't make any guarantees just to secure your business. At the end of the day, legal proceedings are inherently unpredictable, and there's no way to be certain of the outcome of any given claim.
4. What Is Your Fee Structure?
When handling tort claims, most practices work on a contingency fee basis. That means their fee comes out of the payout—if any—they manage to secure. If the firm you're considering promises to take your case for a flat rate or is not transparent about their contingency fee, it's probably worth reevaluating the quality of the counsel they provide.
Speak with a St. Cloud Truck Accident Attorney
At Bradshaw & Bryant, we're well-versed in collision claims involving large trucks. Whether an independent trucker, motor carrier, or major manufacturer is liable, we have the resources, skills, and experience to seek justice. Call 320-259-5414 or fill out our Contact Form to set up a free case review with a truck accident lawyer in St. Cloud.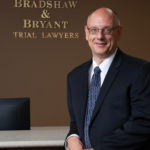 A founding partner with Bradshaw & Bryant, Mike Bryant has always fought to find justice for his clients—knowing that legal troubles, both personal injury and criminal, can be devastating for a family. Voted a Top 40 Personal Injury "Super Lawyer"  multiple years, Mr. Bryant has also been voted one of the Top 100 Minnesota  "Super Lawyers" four times.